As Smollett Hate Hoax Collapses, NYT Headlines Lynching Of Emmett Till
Chris Menahan
InformationLiberation
Feb. 21, 2019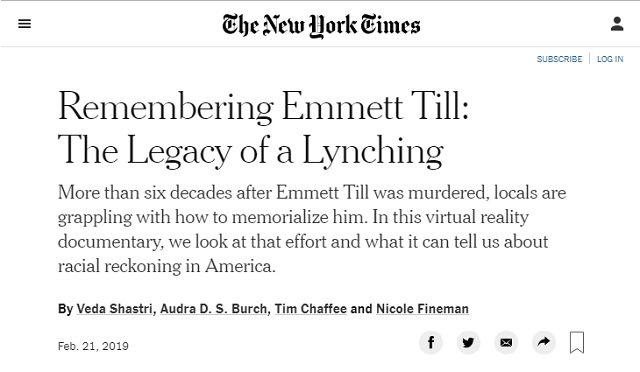 With the arrest of Jussie Smollett on Thursday for allegedly staging a hate hoax against himself, the New York Times tried to salvage the narrative by headlining a 64-year-old story of a white on black lynching from 1955.

The New York Times ran an article titled: "Remembering Emmett Till: The Legacy of a Lynching."

Subheadline: "More than six decades after Emmett Till was murdered, locals are grappling with how to memorialize him. In this virtual reality documentary, we look at that effort and what it can tell us about racial reckoning in America."

"In 1955, 14-year-old Emmett Till walked into a Mississippi store to buy candy. After being accused of whistling at the white woman behind the counter, he was kidnapped, lynched and dumped into a river," the Times wrote on Twitter.


Does anyone think the Times will be talking about the staged "lynching" of Jussie Smollett (which also involved a noose) even two days from now -- let alone in 64 years?

"Quick! Try to distract everyone from the Jussie Smollett hoax!" conservative commentator Mark Dice responded.


I wonder why so many Americans think "the media is the enemy of the people!?"


Follow InformationLiberation on Twitter, Facebook, Gab and Minds.