Dem Rep Eric Swalwell Says He'd Nuke Americans Resisting His Gun Confiscation Plan
Chris Menahan
InformationLiberation
Nov. 16, 2018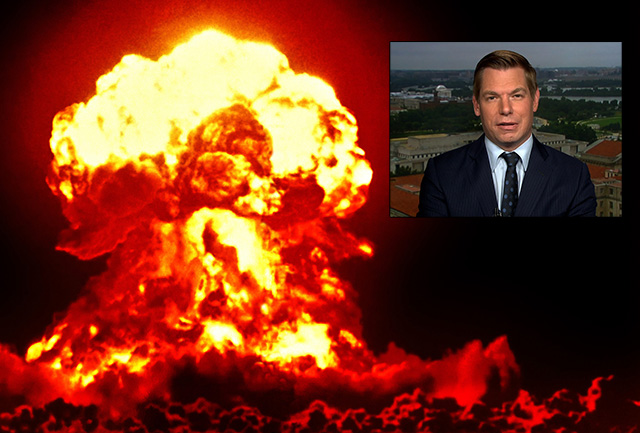 Democrat presidential hopeful Eric Swalwell on Friday threatened that he would use nuclear weapons against American citizens on American soil if they revolted against his plan for mandatory gun confiscation.

Responding to a column Rep. Swalwell wrote earlier this year calling for mandatory gun confiscation and "going after resisters," conservative commentator Joe Biggs said that means Swalwell basically "wants a war."

"You're outta your fucking mind if you think I'll give up my rights and give the gov all the power," Biggs said.


Swalwell responded saying it'd be "a short war" because "the government has nukes."


"So our government would nuke its own country in order to take guns? Wow," Biggs responded.


"Don't be so dramatic. You claiming you need a gun to protect yourself against the government is ludicrous," Swalwell said after threatening to use nuclear weapons against Americans on American soil to confiscate their guns.


NRA spokeswoman Dana Loesch also shared Swalwell's article and wrote: "High ranking Democrat Eric Swalwell calls for confiscation of semi-automatic rifles using $15billion of taxpayer dollars to do it and proposes criminally prosecuting those who donít participate."

Swalwell responded: "Sheís not lying. We should ban assault weapons by buying them back or restricting them to ranges/clubs."


I'm no history buff, but I would assume this is the first time an elected politician has threatened to nuke American citizens on American soil -- let alone nuke them in order to confiscate their guns.

As I reported last week, a Baltimore man was shot to death in his home by police serving a gun confiscation "protective order" under Maryland's newly passed "red flag" law for refusing to give up his guns.



In just a few months time, the Democrats have gone from "nobody wants to take your guns" to "we're going to take all your guns and we will nuke you if you resist."

Follow InformationLiberation on Twitter, Facebook, Gab and Minds.