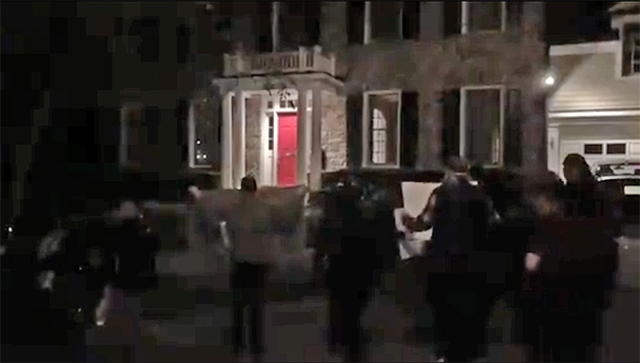 Tucker Carlson's wife was at their DC home Wednesday night when an unhinged leftist mob suddenly tried to smash their door down before screaming "we know where you sleep at night!"

Carlson's front door was reportedly "cracked" and the mob spoke of wanting to bring a "pipe bomb" to Tucker Carlson's house.

From The Washington Post:

Fox News host Tucker Carlson was at his desk Wednesday evening, less than two hours before his 8 p.m. live show, when he suddenly started receiving multiple text messages.

There was some sort of commotion happening outside his home in Northwest D.C.
"I called my wife," Carlson told The Washington Post in a phone interview. "She had been in the kitchen alone getting ready to go to dinner and she heard pounding on the front door and screaming. ... Someone started throwing himself against the front door and actually cracked the front door."
His wife, thinking it was a home invasion, locked herself in the pantry and called 911, Carlson said. The couple have four children, but none were home at the time.

But it wasn't a home invasion. It was a protest.
It wasn't a "protest" it was a terroristic threat.





They doxed the home addresses of Tucker and his brother Buckley, as well as Ann Coulter, Sean Hannity and The Daily Caller's Neil Patel and demanded he change his political views.

That's the definition of terrorism.
Roughly 20 people had gathered outside Carlson's residence, said Lt. Jon Pongratz with the Metropolitan Police Department of D.C. Authorities received a call at about 6:30 p.m. Wednesday and responded "within a few minutes," Pongratz told The Post.

Carlson said the protesters had blocked off both ends of his street and carried signs that listed his home address. The group called Carlson a "racist scumbag" and demanded that he "leave town," according to posts on Twitter. A woman was also overheard in one of the deleted videos saying she wanted to "bring a pipe bomb" to his house, he said.

"It wasn't a protest. It was a threat," said Carlson, who is often denounced by critics, particularly liberal critics, for inflammatory rhetoric about immigrants and minorities on his Fox News show. "They weren't protesting anything specific that I had said. They weren't asking me to change anything. They weren't protesting a policy or advocating for legislation. ... They were threatening me and my family and telling me to leave my own neighborhood in the city that I grew up in."

He added that he still does not know who was behind the protest, but plans to find out.

On Twitter, Smash Racism DC accused Carlson of spreading "fear into our homes" every night, taking particular issue with his comments about the migrant caravan.

"Tonight you're reminded that we have a voice," a now-deleted tweet read. "Tonight, we remind you that you are not safe either."

The host's address, as well as the addresses of his brother and good friend Neil Patel, with whom he co-founded the conservative media site the Daily Caller, were shared in tweets from Smash Racism DC's account.
They were also shared by "ShutItDownDC," whose Twitter account is still active and filled with threatening language.
In a Facebook post that included video of the gathering, the group wrote, "Fascists are vulnerable. Confront them at their homes!"

Following backlash and news reports, Twitter deleted the problematic tweets and suspended the group's account early Thursday morning. The Facebook video was also taken down, but the page is still up. A request for comment made to the group's Facebook page early Thursday has not been returned.
Both Twitter and Facebook allow these antifa to operate unimpeded (while shutting down right-wingers like Alex Jones for their political speech).

Just 10 minutes ago at 1:25 PM EST they posted another terroristic threat on Facebook:




Many of these antifa foot soldiers of the establishment also take PayPal and process credit cards without any of the trouble faced by right-wingers.
Hours after the protesters dispersed, police were still stationed near his home, Pongratz said, adding the block will be under "special attention" for "as long as needed."

"We're going to keep an eye on the block and the area because of the earlier disturbance to make sure that nothing escalates," he said, noting that the increased security was a decision made by police. "We wanted to make sure that it stayed safe ... in case they do come back."

[...] Carlson, a longtime D.C. resident, said he went to "great lengths" to keep his home address private because of his family, who were all "very upset" by the protesters. He added that he loves his home and neighborhood and does not want to move.

"They think of Northwest D.C. as a tranquil sanctuary where they know everyone and everyone is nice," he said. "They think of this as the greatest place in the world."

Now, Carlson is worried about leaving his family alone at home.

"How can you go out for dinner and leave the kids at home at this point?" he said. "If they're talking about pipe bombs ... how do you live like that?"

He added that he also doesn't know what he's going to do about checking the mail. In October, pipe bombs were mailed across the country to high-profile critics of President Trump.

"I probably won't open another package sent to our house from now on," Carlson said.

Wednesday night's events are the latest in a spate of harassment aimed at prominent politicians and media outlets, ranging from being heckled in restaurants to receiving packages containing explosive devices.

While he is no stranger to threats, Carlson said this time things went "too far."

"I don't think I should be threatened in our house," he said. "I think I should fight back, and I plan to."

He added: "I'm not going to be bullied and intimidated."
Instead of hunting down Proud Boys and others for defending themselves and folks like Ann Coulter from these leftist hate mobs, why doesn't the DOJ investigate these groups which are allowed to openly threaten and intimidate right-wingers?

They openly advocate for and carry out violence every time a right-winger tries to speak at a college or hold a protest and yet they're not only not prosecuted for their crimes but their victims are targeted while they are actively defended by the state!

Follow InformationLiberation on Twitter, Facebook, Gab and Minds.