Video Shows 'Antifa Started The Fight' In NYC, But NYPD Looks to Charge 9 Proud Boys
Chris Menahan
InformationLiberation
Oct. 15, 2018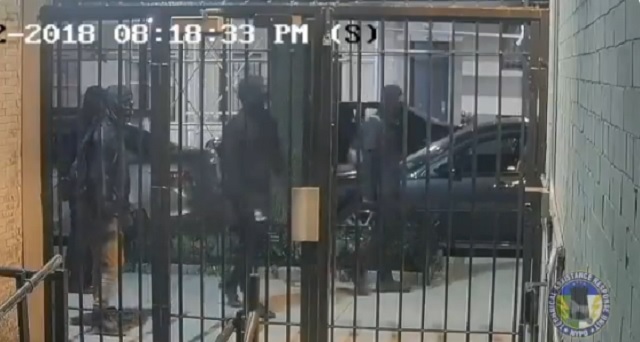 Gavin McInnes says newly released surveillance video shows it was "antifa who started the fight" Friday night in New York City between them and the Proud Boys.

The video released by the NYPD on Monday shows a group of masked suspected antifa approaching towards the Proud Boys as they were leaving a speech put on by McInnes and one antifa can be seen throwing what may be a bottle at the Proud Boys before a fight breaks out.


There appears to be five masked antifa members present, though several fled immediately as the violence broke out.



While throwing a "bottle" at someone might not seem like a huge deal, it is an initiation of violence and antifa are well known for bottling their own waste to use as a weapon.

Such an attack happened earlier this month to journalist and filmmaker Ford Fischer:


Despite the video evidence, The Daily Beast reports the NYPD is looking to hit nine Proud Boys with a host of charges compared to just three antifa:

The New York Police Department announced that it has enough evidence to charge nine members of the right-wing group Proud Boys and three protestors with various counts of rioting, assault, and attempted assault in connection with a brawl that erupted between the two sides a few blocks from a city Republican club following a speech Friday by Proud Boys leader Gavin McInnes.

NYPD Chief of Detectives Dermot Shea said Monday that police recovered multiple videos of the incident and have spoken to witnesses and sources as they piece together what took place in the moments after Proud Boys and associates left the the Metropolitan Republican Club in Manhattan.

[...]Video shows protesters, whom police described as antifa, and Proud Boys in the middle of the block on 82nd Street brawling approximately three minutes after Proud Boys left the club. Police believe six protesters, shown on video wearing black masks, headed north, and circled the block to "intercept" the Proud Boys on 82nd Street between Park and Lexington avenues, Shea said.

The video shows at least one of the protesters hurling what police believe to be a bottle and throwing punches as the Proud Boys came into the frame punching and kicking the protestors. Shea said about 38 seconds elapsed between the time when the masked protesters threw the bottle and when uniformed officers arrived on the scene.

McInnes said the video proved anti-fascists started the fight. "This is a little awkward for the Daily Beast narrative isn't it?" he wrote The Daily Beast with a link to the video, which was already described in this article, at length. "Turns out it was antifa who started the fight."
Video from Saturday's brawl in Portland similarly showed masked antifa initiated violence against the Proud Boys and Patriot Prayer by attacking them with pepper-spray.


In Democrat controlled cities across America, antifa mobs are allowed to attack right-wingers with virtual impunity and their victims are charged with crimes for defending themselves.



Follow InformationLiberation on Twitter, Facebook, Gab and Minds.