Trump Mocks "Da Nang Richard" Blumenthal, Defends Kavanaugh At Epic USMCA Press Conference
Chris Menahan
InformationLiberation
Oct. 01, 2018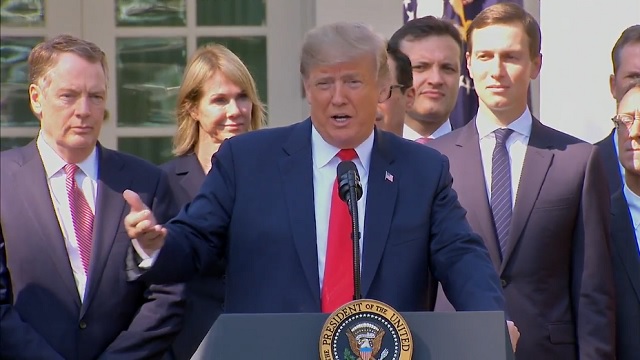 President Trump was on fire Monday during his news conference unveiling his new NAFTA agreement dubbed the USMCA (The United States-Mexico-Canada Agreement).

Trump mocked several fake news reporters, defended Brett Kavanaugh, pointed out how Democrat Senator Richard Blumenthal -- whom Trump said he refers to as "Da Nang Richard" -- lied about being a war hero in Vietnam and more.

Trump's not only the greatest president of all time but the greatest entertainer of all time!






From Free Beacon:

President Donald Trump suggested Monday some of the Democrats questioning Supreme Court nominee Brett Kavanaugh had their own private behavioral issues, saying they were "not angels" and specifically calling out one he had seen in "very bad situations."

[...]He said the process was "so bad for our country" and said the questioning of Kavanaugh by Democrats on Thursday was a "disgrace."
"I watched those senators on the Democrat side, and I thought it was a disgrace, partially because I know them," he said. "I know them too well, and you know what? They are not angels."

Trump later said he had seen one Democratic senator who was "very aggressive" in some "very bad situations," although he wouldn't say whom and didn't get more specific.
The deal itself looks overall pretty solid.

Here's some of the biggest changes in the USMCA from WashPo:

Big changes for cars. The goal of the new deal is to have more cars and truck parts made in North America. Starting in 2020, to qualify for zero tariffs, a car or truck must have 75 percent of its components manufactured in Canada, Mexico or the United States, a substantial boost from the current 62.5 percent requirement.

Thereís also a new rule that a significant percentage of the work done on the car must be completed by workers earning at least $16 an hour, or about three times what the typical Mexican autoworker makes. Starting in 2020, cars and trucks should have at least 30 percent of the work on the vehicle done by workers earning $16 an hour. That gradually moves up to 40 percent for cars by 2023.

[...]Trumpís victory: Canada opens up its milk market to U.S. farmers. Trump tweeted often about how unfair he thought it was that Canada charged such high tariffs on U.S. dairy products. Canada has a complex milk and dairy system. To ensure Canadian dairy farmers donít go bankrupt, the Canadian government restricts how much dairy can be produced in the country and how much foreign dairy can enter to keep milk prices high. Trump didnít like that, and dairy was a major sticking point in the negotiations.

In the end, Canada is keeping most of its complex system in place, but it is giving greater market share to U.S. dairy farmers. U.S. negotiators say they got a major victory by forcing Canada to eliminate the pricing scheme for what are known as Class 7 dairy products. That means U.S. dairy farmers can probably send a lot more milk protein concentrate, skim milk powder and infant formula to Canada (and those products are relatively easy to transport and store).
As Trump says during the press conference, he's using tariffs as a negotiation tool to get these other nations to bend to our will. Rather than sell America out to the highest bidder for kickbacks like the Clintons, Trump is using access to the US markets as his leverage!

Follow InformationLiberation on Twitter, Facebook, Gab and Minds.