FLAKE FLAKES: Demands One Week FBI Investigation For Him to Support Final Kavanaugh Vote
Chris Menahan
InformationLiberation
Sep. 28, 2018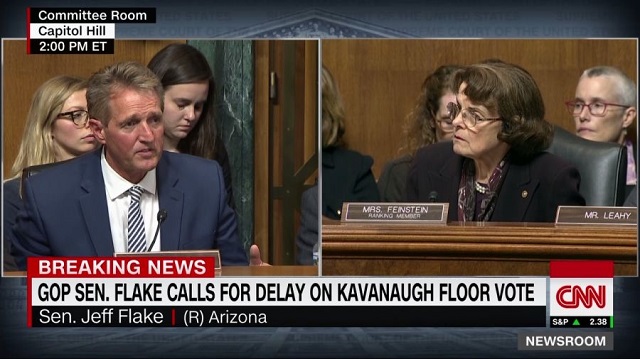 Flaky Senator Jeff "The Flake" Flake flaked again on Friday.

From Breitbart:

1:55 PM: Senate Judiciary Committee votes Kavanaugh nomination out of committee (11-10). Flake says he will be only comfortable moving on the floor with the one-week investigation/due diligence. Grassley and Graham note that they don't control what happens on the floor


1:51 PM: Grassley, citing point of personal privilege, calls on Flake to speak before the vote. Flake says he thinks it would be proper to delay the floor vote for up to one week to enable the FBI to due an investigation, limited to time and scope to no more than one week. He says he will vote to advance the vote to the floor with that understanding.
All he's doing is dragging this charade on for another week and giving the crooked FBI an opportunity to sabotage Kavanaugh's nomination. It will be another week with a hundred more false accusations and a dozen more false accusers.

He said he did this to achieve some sort of unity with the Democrats, which is pointless considering no Democrats except possibly West Virginia's Joe Manchin are likely to vote for Kavanaugh.

Here's his exact quote from CNN:

I'm simply stating the discussion that we had between us all is that I would hope and I think we had some agreement before that the Democrats who have been -- I think -- justifiably uncomfortable moving ahead, could publicly, in an effort to bring this country together, say that we would feel better.... I'm not expecting them to vote yes... but not to complain that an FBI investigation has not occurred. This is what I'm trying to do. This country is being ripped apart here. We've got to make sure that we do due diligence.
Here's CNN's explanation:

So here's where things stand, as far as we can tell:

- Brett Kavanaugh's nomination has been approved. It now heads to the floor.
- Sen. Jeff Flake voted yes on the grounds that he would get support to request a floor vote delay and a one week FBI investigation.
- However, Flake has been given NO commitment by Senate Majority Leader Mitch McConnell.
- If McConnell moves forward without that investigation, Flake will vote against Kavanaugh.
- Whether this happens or not rests with senators such as Lisa Murkowski and Susan Collins, who have not announced how they plan to vote.
Graham's response:


President Trump:





Follow InformationLiberation on Twitter, Facebook, Gab and Minds.