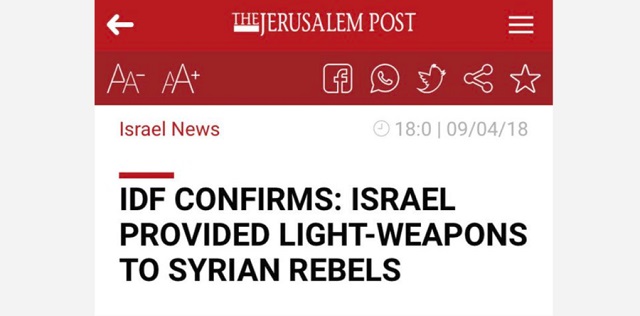 The Israeli army admitted to the Jerusalem Post on Tuesday that they gave Syrian rebels "large amounts of cash, weapons and ammunition," but then ordered the story to be censored shortly after it was published.


From Antiwar:

The Jerusalem Post, a major Israeli newspaper, published an article on Wednesday quoting Israeli military officials as saying that they had been providing seven different Syrian rebel groups with "large amounts of cash, weapons and ammunition."

Though the report did not name all of the rebel factions subsidized by Israel, it did name Fursan al-Joulan, a rebel group which had previously been accused of being in league with the Israeli military. This is particularly noteworthy because this was one of few rebel groups which refused the Russian evacuation deal in southern Syria. The report says all arming of the groups ended in July with the defeat of the last rebels in the area.

Even more interesting is that the Israeli military initially told Jerusalem Post this, and then forced the article to be taken down under military censorship rules. The Israeli military is legally empowered to censor the press, though it's rare for the article to get published then taken down, as usually Israeli media outlets don't start covering censored stories until international outlets break them first.


More from RT:

The IDF has forced the Jerusalem Post to remove its explosive report on the Israeli military giving weapons to the Syrian rebels, the newspaper's managing editor confirmed to RT.

"We were told by the army's military censor to remove that part of the story," David Brinn, the managing editor of the Jerusalem Post, told RT as he replied to a request for comment. The report, 'IDF confirms: Israel provided light-weapons to Syrian rebels', which claimed that the Israeli military acknowledged for the first time that it had provided money, weapons, and ammunition to the Syrian militants, was removed just hours after being published without any explanation.

According to Brinn, the story was removed "for security reasons evidently." The IDF told RT that it would not comment on the issue.

[...]It claims that regular supplies of light weapons and ammunition to the Syrian militants holding the territories near the Israeli border were part of Operation Good Neighbor, which Israel portrayed as a humanitarian mission focused on providing Syrians with "food, clothes and fuel."
The Israeli military also publicly admitted they carried out over 200 airstrikes on alleged "Iranian" targets in Syria since 2017.


In April 2017, former Israeli Defense Minister Moshe Ya'alon, who served as Israel's Defense Minister from 2013 up until May 2016, told Channel 10 news that ISIS had "apologized" for attacking Israeli Defense Forces operating in the Syrian Golan Heights.

In 2015, it also came out Israel was providing medical care to Islamic militants injured fighting the Assad regime in the Golan Heights.



Follow InformationLiberation on Twitter, Facebook, Gab and Minds.