Trump Slams Big Tech Censorship: Americans Deserve Same Free Speech Rights As The Media
Chris Menahan
InformationLiberation
Aug. 21, 2018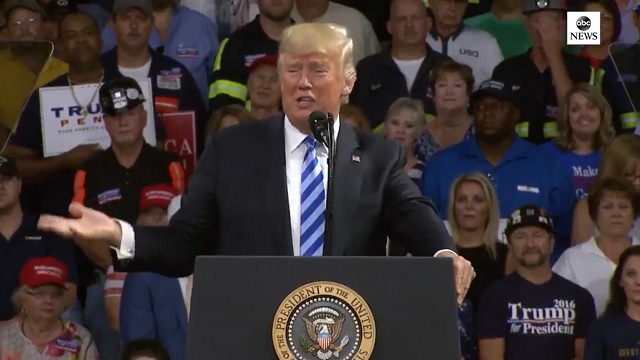 President Trump spoke out against Big Tech censorship at his rally Tuesday in West Virginia and suggested Americans deserve the same First Amendment rights as the media.

"We are also standing up to social media censorship, that's the new thing, that's the new thing," Trump said. "You know, I'd rather have fake news like CNN, I'd rather have fake news, it's true, than have anybody including liberals, socialists, anything, than have anybody stopped and censored."

"We got to live with it," he said.


"Everyone of us is sort of like a newspaper," Trump said. "You have Twitter... you have Facebook... You can't have censorship, you can't pick one person and say, we don't like what he's been saying, he's out. So we will live with fake news."

"I hate to say it but we have no choice because that's by far the better alternative. You can't have people saying censorship. It can turn around, it could be them next. We believe in the right of Americans to speak their minds," he said.



This is a good angle as there's really no difference these days between random individuals on social media and media outlets, especially considering most fake news outlets like CNN have zero standards anyways -- not to mention they outright lie to get our nation into wars.


The whole media anger over "fake news" is really just anger over the fact that in the internet age anyone is able to call out their bull---t.

That's why most fake news sites have deleted their comment sections and are now doing everything in their power to work with Big Tech to shut down the true free press.


Follow InformationLiberation on Twitter, Facebook, Gab and Minds.