Trump to Trudeau: "Didn't You Guys Burn Down The White House?"
Chris Menahan
InformationLiberation
Jun. 07, 2018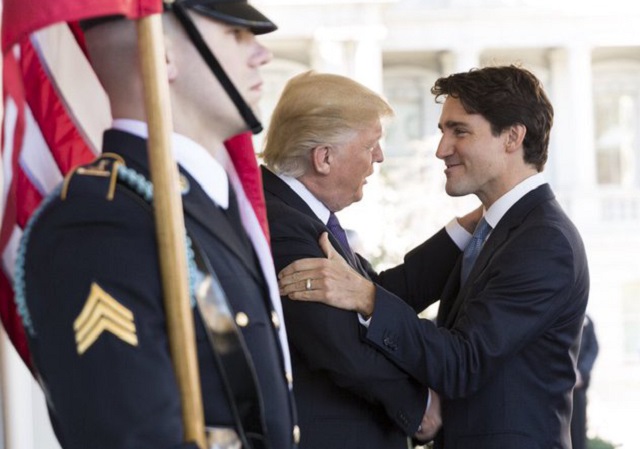 President Trump brought up the War of 1812 during a "testy" phone call with smarmy Justin Trudeau over his new tariffs.

From CNN:

President Donald Trump and Canadian Prime Minister Justin Trudeau had a testy phone call on May 25 over new tariffs imposed by the Trump administration targeting steel and aluminum imports coming from Canada, including one moment during the conversation in which Trump made an erroneous historical reference, sources familiar with the discussion told CNN.

According to the sources, Trudeau pressed Trump on how he could justify the tariffs as a "national security" issue. In response, Trump quipped to Trudeau, "Didn't you guys burn down the White House?" referring to the War of 1812.

The problem with Trump's comments to Trudeau is that British troops burned down the White House during the War of 1812. Historians note the British attack on Washington was in retaliation for the American attack on York, Ontario, in territory that eventually became Canada, which was then a British colony.
Yes, fact-checking Trump's jokes is now a thing.
When asked if the comment was received as a joke, one source on the call said: "To the degree one can ever take what is said as a joke. The impact on Canada and ultimately on workers in the US won't be a laughing matter."

The White House declined to comment and the National Security Council did not immediately return a CNN request for comment.
Canada didn't have to retaliate. They chose to start a trade war rather than let the US shoot itself in the foot by (allegedly) lessening its global competitiveness.

It probably would have been better policy to just slowly phase in a flat tariff on all foreign goods like Ian Fletcher recommends, but I'm not going to complain.

Follow InformationLiberation on Twitter, Facebook and Gab.