Sebastian Gorka Launches Emotional Tirade Against Col. Macgregor For Questioning Syria Strikes
"Shame on you for questioning General Mattis!"
Chris Menahan
InformationLiberation
Apr. 13, 2018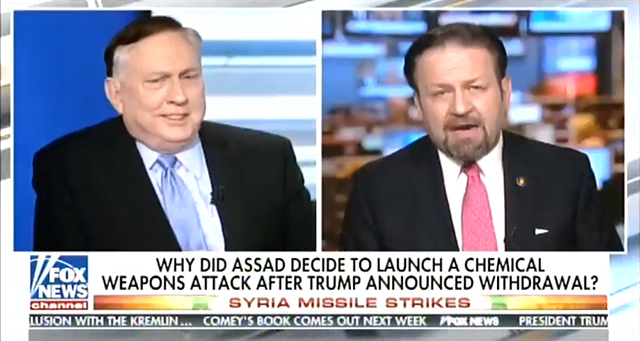 Sebatian Gorka officially jumped the shark Friday night when he launched into an emotional, embarrassing tirade attacking decorated war veteran Colonel Douglas Macgregor for questioning the narrative on Trump's Syria strikes.

Colonel Douglas Macgregor said Friday on Laura Ingraham's show Assad launching a chemical attack when he's on the brink of victory "doesn't make any sense," and said he questions the claims he used "sarin and chlorine gas" together. "That's never happened before," Col. Macgregor said, "that's a first in the history of chemical warfare."

Col. Macgregor added that tonight's attack was a "cosmetic attack" which will amount to little because Russia and Iran are the real power in Syria.

Sebastian Gorka responded by screaming, "Shame on you for questioning General Mattis!"



"We have to assert our moral clarity," Gorka said. "You do not get to use illegal chemical weapons against women and children -- and I was in the White House a year ago and I saw the intelligence and guess what Colonel, it was the Assad regime that did it! And when a four-star retired Marine Corps legend like the current Secretary of Defense tells you that we've seen the intelligence and it was Assad everybody should take that to the bank and shame on you for questioning General Mattis retired!"

Mattis just tonight said he's "confident" Assad was behind the attack, though he refused to say he was certain and neglected to provide any evidence to back up his claim. Mattis admitted two months ago the US still has no evidence Assad used sarin gas in last year's attack which Gorka insisted the secret evidence he saw proved was Assad.



Macgregor responded, "I've met General Mattis and I'm happy to question it because I don't think General Mattis meant--"

"You don't have the clearances and you haven't seen it Colonel!" Gorka interrupted.

"Well you'd be surprised at the clearances that I have--"

"Have you seen intelligence! Have you seen intelligence!" an emotional Gorka screamed.

"Sebastian will you please calm down for a second--"

"No, it's outrageous!" Gorka shouted.

"We've been down this road before, we launched cruise missiles in 1999--"

"Not with this president! Not with this president!" Gorka said, ignoring Trump's previous Syria strike.

"We launched it against a factory we said was building missile parts in 1999 and connected to Al-Qaeda, it was a milk production facility. We've had so much misinformation, it is absolutely not clear what happened a year ago, I completely reject that--"

"It is to me, you were outside the building!" Gorka said.

"It is not clear to me, absolutely not, and I have spent my life in the military, and I have seen intelligence manipulated repeatedly over the last twenty five twenty some odd years!" Macgregor responded.

Laura Ingraham went on to laugh in Gorka's face later in the discussion and told him to get off his "moral high horse."

Follow InformationLiberation on Twitter, Facebook and Gab.