UK: 78yo Man Arrested For Murder After Stabbing Armed Burglar to Death In His Home
Chris Menahan
InformationLiberation
Apr. 04, 2018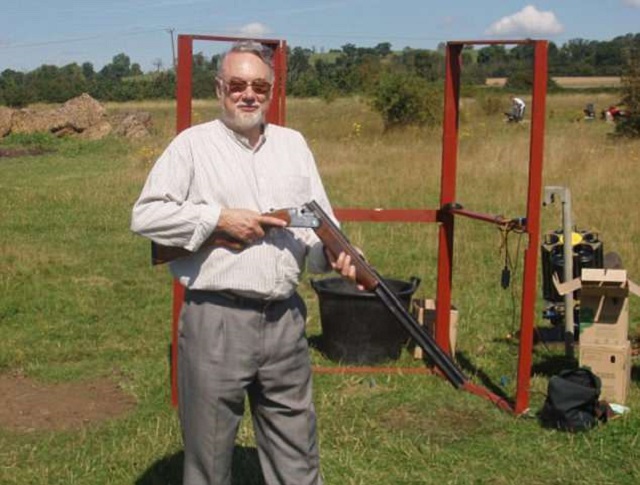 A 78-year-old pensioner in the United Kingdom was arrested and jailed for stabbing an armed robber to death in his home.

From The Telegraph:

A pensioner has been arrested after a suspected burglar was killed during a violent tussle at his home.

...In a statement Scotland Yard said: "At 00:45hrs on Wednesday, 4 April, police were called by a homeowner to reports of a burglary in progress at an address in South Park Crescent, Hither Green SE6, and a man injured.

"The 78-year-old resident found two males inside the address. A struggle ensued between one of the males and the homeowner. The man, aged 37, sustained a stab wound to the upper body."

The home owner suffered bruising to his arms and his injuries are not life threatening.

Police arrested him on suspicion of grievous bodily harm before then arresting him on suspicion of murder.

He was taken to a south London police station where he remains at this time.
He's been rotting in jail for over two days.

From The Daily Mail:

Neighbours of a pensioner accused of stabbing a burglar to death have leapt to his defence, saying he should be given a medal - not a murder charge.

The 78-year-old homeowner, Richard Osborn-Brooks, was upstairs asleep with his wife when he was woken by two men breaking into his suburban home in Hither Green, south-east London in the early hours of yesterday.

One, 38, was armed with a screwdriver, but was left with stab wounds to the chest after a struggle ensued inside the house. He later collapsed and died in hospital.

Mr Osborn-Brooks has been arrested on suspicion of murder, but his neighbours have slammed the justice system, claiming he was well within his rights.

His friend Tony Guest, 61, posted on Facebook to say he 'deserves a medal and should be let free'.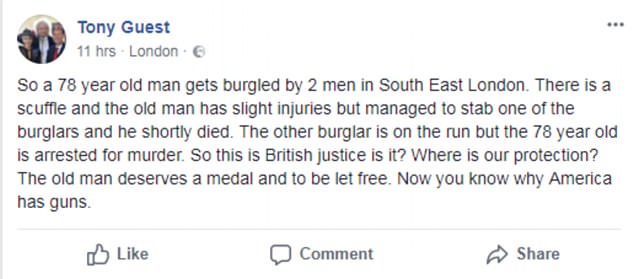 It's illegal to defend yourself from armed robbers in Cuck Island. It's against the law to criticize Allah. It's also against the law to criticize the Pakistani grooming gangs raping white British girls on an "industrial scale."



This has to be the first time in history a nation has made it effectively illegal for the majority population to defend themselves from hostile outsiders.

Follow InformationLiberation on Twitter, Facebook and Gab.