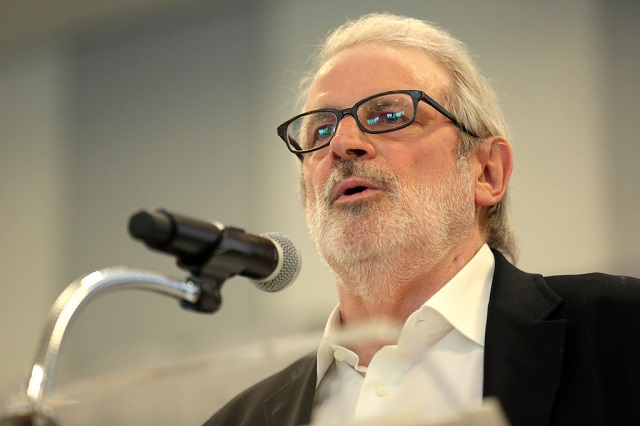 David Stockman, former Michigan representative and Director of the Office of Management and Budget under President Reagan, destroyed the Russian collusion hoax with incredible clarity in his latest column on Tuesday.

From Antiwar.com, "The FBI's Perjury Trap of the Century":

If you were a Martian visitor just disembarked from of one of Elon Musk's rocket ships and were therefore uninfected by earth-based fake news, the culprits in Washington's witch-hunt de jure would be damn obvious.

They include John Brennan, Jim Comey, Sally Yates, Peter Strzok and a passel of deep state operatives – all of whom baldly abused their offices. After Brennan had concocted the whole Russian election meddling meme to sully the Donald's shocking election win, the latter three holdovers – functioning as a political fifth column in the new Administration – set a perjury trap designed to snare Mike Flynn as a first step in relitigating and reversing the voters' verdict.

The smoking gun on their guilt is so flamingly obvious that the ability of the Trump-hating media to ignore it is itself a wonder to behold.

After all, anyone fresh off Elon's rocket ship would learn upon even cursory investigation of the matter that the National Security Agency (NSA) intercepts electronically every single communication of the Russian Ambassador with any person on US soil – whether by email, text or phone call.

So the clear-minded visitor's simple question would be: What do the transcripts say?

In fact, a Martian visitor would also quickly understand that the entire world – friend, rival, foe and enemy, alike – already knows of NSA's giant digital spying operation owing to Snowden's leaks, and that therefore there are no "sources and methods" on the SIGINT (signals intelligence) front to protect.

Accordingly, the disinterested Martian would undoubtedly insist: Declassify the NSA intercepts and publish them on Facebook (and, for old timers, on the front page of the New York Times) so that the truth would be known to all.

Of course, that would punch a deep hole in the entire RussiaGate witchhunt because NSA, in fact, did record Flynn's late December conversations with Russian Ambassador Kislyak. And there was not a single word in them that related to alleged campaign collusion or otherwise inappropriate communications by the incoming national security adviser to a newly-elected President who was three-weeks from inauguration.

Indeed, as explained below, Mueller has effectively told us that Flynn's communications with Kislyak were clean as a whistle.

Accordingly, there was no reason whatsoever – as in none, nichts, nada and nugatory, too – for the FBI's January 24th interview of Flynn. Four days after the inauguration, Acting Attorney General Sally Yates and the FBI were wasting the time of the new President's national security advisor for no earthly reason except to administer a "gotcha quiz" on what they knew from the transcripts to be completely innocent conversations with the Russian Ambassador.

The content of the calls was entirely about pending policy matters. That is, the UN security council resolution condemning Israel's settlements policy and Obama's belligerent new anti-Russia sanctions. With respect to both of these matters, the incoming President had a publicly known policy position different from the incumbent's, and about which his team was completely entitled to communicate with official foreign ambassadors.

So the January 24th interview itself was a Nixonesque abuse of the nation's law enforcement machinery to strike at a political enemy – albeit a mighty legitimate one who had just become occupant of the Oval Office by will of the American people.

These new-style Deep State "plumbers" who openly broke into the White House that day, in fact, conducted a blatant entrapment exercise with malice aforethought. Its only possible purpose was to bait Flynn into contradicting the word-for-word transcripts in the FBI's possession – intercepts which had been illegally "unmasked" by Brennan's political witch-hunt for Russian election malefactors.

And we use the "illegal" word purposefully to underscore that the only ultimate justice here is for Obama's rogue CIA director to be locked-up.

Brennan's post-election leakathon of phony Russian meddling accusations was so threadbare of valid national security evidence that it even included falsehoods from the completely discredited and ludicrous Steele dossier – which was paid for by the DNC and Clinton campaign. And it culminated in the evidence-free screed of January 6th that was nosily presented to Obama as an intelligence community's assessment but was actually a hatchet-job authored by Brennan and a hand-picked silo of anti-Trump analysts and fiction-writers like the now outed Peter Strzok of the FBI.

Issued under cover of the CIA, FBI, NSA and Director of National Intelligence (the confirmed liar, James Clapper), this document amounted to a sweeping abuse of the national security apparatus in furtherance of purely political purposes and vengeance against Deep State critics. It capped a 5-month long, Brennan led campaign of naked political exploitation of the national security machinery that made the Nixon White House look like a Boy Scout Jamboree.

As we will demonstrate below, Brennan never had hard proof of Trump campaign collusion with the Russians to influence the election because if it existed it would have leaked in full "smoking gun" splendor long ago.
Read the entire article.

It's the greatest breakdown of this whole hoax I've seen to date. He gets one fact wrong, which is that Podesta's password was not "password," but either "

[email protected]

" or "Runner4567," otherwise it's flawless.

Follow InformationLiberation on Twitter, Facebook and Gab.