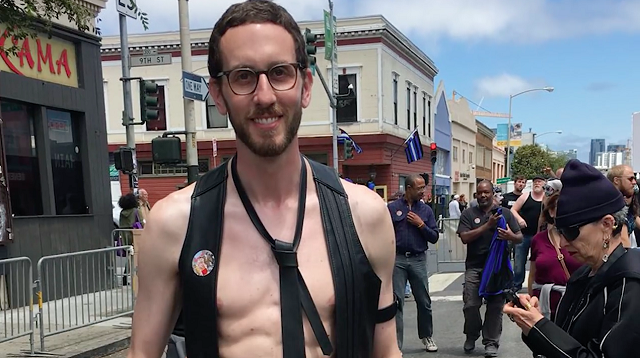 The state of California has made it a mere misdemeanor to knowingly infect sexual partners with HIV. Democratic legislators said last month that charging bug spreaders with a felony is "homophobic" and "discriminatory."

From RT:

California Governor Jerry Brown has signed a bill that reduces the crime of knowingly exposing a sexual partner to HIV without informing them from a felony to a misdemeanor.

Friday's Senate Bill 239 also applies to those who donate blood without disclosing their HIV status to the blood bank.

It was authored by Senator Scott Wiener (D-San Francisco) and Assemblyman Todd Gloria (D-San Diego).

"Today, California took a major step toward treating HIV as a public health issue, instead of treating people living with HIV as criminals," Wiener said in a statement.


"HIV should be treated like all other serious infectious diseases, and that's what SB 239 does," he added.

Knowingly transmitting HIV to another person can still be classified as a felony in cases where intent to do so can be proven. Prior to passing the bill, under California law, HIV was the only communicable disease for which deliberate exposure was deemed a felony offense, which carries a penalty of between three and eight years in federal prison.

Wiener and other advocates for amending the law argued that such severe punishment dissuaded people from getting their HIV status checked, precisely to protect themselves from felony prosecution.

"We are going to end new HIV infections, and we will do so not by threatening people with state prison time, but rather by getting people to test and providing them access to care," Wiener said, as cited by the LA Times.

Last year, legislators approved organ transplants between HIV positive people in a reversal of an earlier decision aimed at limiting the spread of the disease.

The passing of bill 239 reverses the harsh penalties initially imposed during the AIDS scare of the 1980s and 1990s.

"California's outdated and draconian HIV criminal laws have disproportionately harmed people of color and transgender women,"said Melissa Goodman, the LGBTQ, Gender and Reproductive Justice Project Director with the ACLU of Southern California.

However, not everyone is convinced of the wisdom of such a decision.

"I'm of the mind that if you purposefully inflict another with a disease that alters their lifestyle the rest of their life, puts them on a regimen of medications to maintain any kind of normalcy, it should be a felony," Senator Joel Anderson (R-Alpine) said during a debate on the bill.

"It's absolutely crazy to me that we should go light on this," he added.
As Republican Sen. Jeff Stone said while this bill was being debated, infecting someone with HIV would "condemn one to probably $1 million in drug therapy for the rest of their lives."

San Francisco Democratic Senator Scott Wiener, who sponsored the bill, bragged about triggering "Trump world" after news of the bill's passing spread on Twitter:



According to the CDC, nearly 1 in 5 gay men has HIV, the precursor to AIDS.

A homosexual hairdresser made headlines last week for allegedly "embarking on a 'cynical campaign' to infect as many men as he could with the [HIV] virus."

As The Sun reported Friday: "A hairdresser deliberately infected at least four men with HIV after meeting them on gay dating app Grindr — before sending them mocking messages, a court heard."


Though Scott Wiener is fine with people intentionally infecting others with HIV, he sponsored a newly passed bill which makes "misgendering" someone at a public health facility punishable by up to one year in prison and a $1,000 fine.

Follow InformationLiberation on Twitter, Facebook and Gab.