POLL: 62% Of Americans Believe Confederate Statues Should Remain, Only 27% Disagree
Chris Menahan
InformationLiberation
Aug. 16, 2017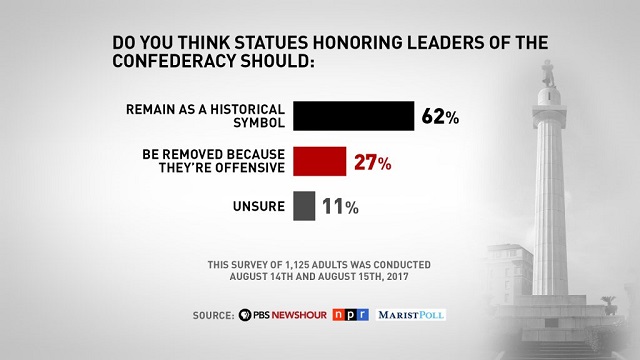 A new poll from PBS has found the majority of Americans of all races believe statues honoring the leaders of the confederacy should remain and only a small minority believes they should be taken down.

PBS News reports:

[T]he poll found that 62 percent of Americans believe Confederate statues should remain in place as historical symbols.

Republicans were twice as likely as Democrats to say they supported keeping statues that honor Confederate leaders. Two-thirds of whites and Latinos said these statues should not be removed. African-American respondents were split, with 44 percent saying the statues should remain in place, and another 40 percent saying they need to be removed because some people find them offensive.
Here's the actual numbers: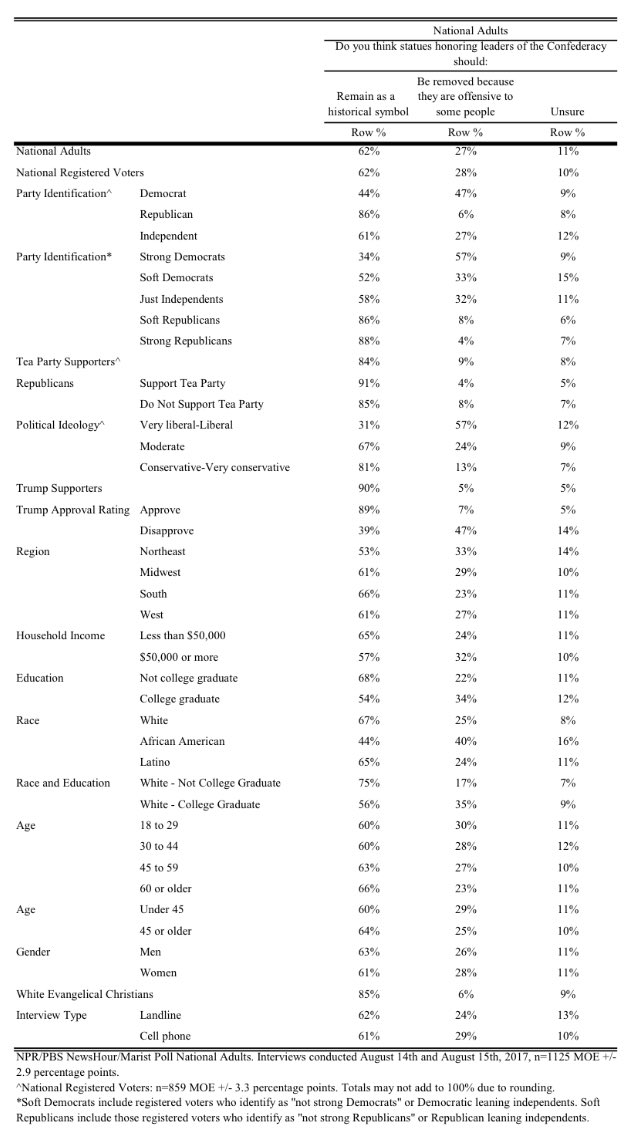 This poll goes completely counter to the hate-driven media's narrative these statues are symbols of hatred and oppression.



Despite this poll, leftists across the country are working to have statues of our past removed.

A left-wing mob illegally tore down a confederate memorial in Durham, North Carolina just yesterday.

The city of Baltimore removed multiple confederate statues last night.





Despite not being part of the confederacy, a Chicago pastor called for George Washington's statue to be removed just as Trump predicted yesterday.


Maryland Governor Larry Hogan is calling for a statue of Chief Justice Roger Taney to be torn down.



Two years ago he said calls for it's removal were "political correctness run amok":


Virginia Governor Terry McAuliffe made a similar 180 reversal and is now calling for confederate statues across the state to be removed, insisting they've become a "barrier to progress, inclusion and equality in Virginia."

Richmond Mayor Levar Stoney said confederate statues "are offensive and need to be removed."




The Council on American-Islamic Relations, CAIR, has called for every confederate memorial to be torn down:



Similar cases are happening all over the country, and yet as this poll shows the majority of Americans of all races oppose these actions to wipe out our history.

Follow InformationLiberation on Twitter and Facebook.