CBS: Manchester Terrorist Is 22-Year-Old Salman Abedi, Was Known to Authorities
Chris Menahan
InformationLiberation
May. 23, 2017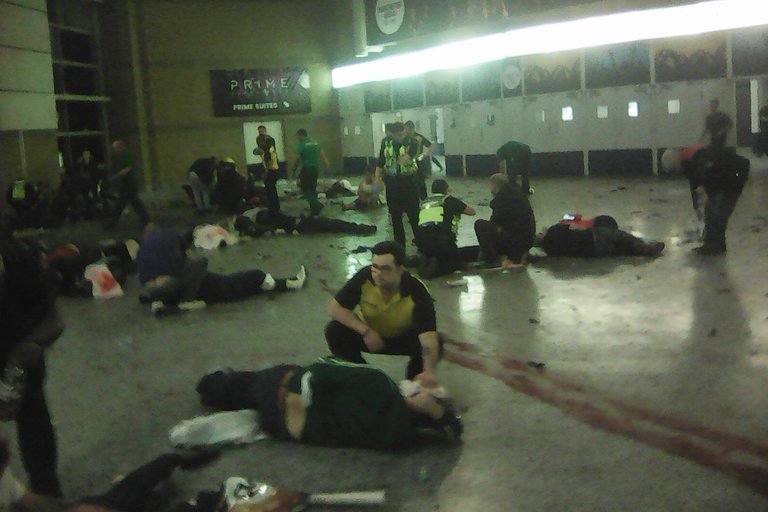 No one could have predicted this.

From CBS News:

LONDON -- CBS News confirmed Tuesday that the man who blew himself up the previous night at an Ariana Grande concert in Manchester, England, was 22-year-old Salman Abedi, who was known to British authorities prior to the attack.

In a generic statement posted online, the Islamic State of Iraq and Syria (ISIS) claimed responsibility for Abedi's suicide bomb attack, which left 22 people dead, including children, at one of the entrances to the Manchester Arena.

Officials said one man was arrested Tuesday in southern Manchester in connection with the attack, and urged people to avoid the center of the city as raids continued at addresses around the city.



...Manchester police confirmed the arrest of a 23-year-old man in the southern Chorlton neighborhood of the city on Tuesday morning. The suspect taken into custody was not identified, but police said the arrest was linked to the bombing. Witnesses said the man was smiling as he was apprehended.

...The bomb wielded by Abedi was designed to kill and maim as many people as possible; many of the survivors suffered shrapnel wounds and ball bearings were found at the scene.

There was security at the concert, but the bomber apparently didn't try to get into the venue, instead blowing himself up in an entrance foyer area as concertgoers flooded out of the arena. Prime Minister May said the attacker had deliberately chosen "his time and place to cause maximum carnage" in the young crowd.
Everyone is absolutely shocked:



The UK government is monitoring over 3,000 Muslims for suspected terrorist involvement at a massive cost to taxpayers.



The Evening Standard ran this headline just hours ago, "Manchester suicide attacker 'was known to security services but not thought to pose immediate threat'":

The suicide bomber who killed 22 people, including children, at an Ariana Grande pop concert in Manchester was known to security services but they did not believe he posed an immediate threat, sources said today.

About 59 people were injured when the terrorist detonated an improvised explosive device in a foyer packed with fans and families at the Manchester Arena last night.

Police said the atrocity was carried out by a lone male bomber, who died at the scene. He is not included in the death toll.

General election campaigning has been suspended. Mrs May said police knew the identity of the attacker and were working to establish if he was acting alone or as part of a wider group.

It is thought he had been known to the security services but sources said he was not thought to be an immediate threat.
A lot of good that monitoring did. Rather than spending billions of dollars to transform our nations into totalitarian police states in the hope Muslims won't blow stuff up, maybe we should just tell them "you have to go back."

Follow InformationLiberation on Twitter and Facebook.