A 23-year-old criminal illegal alien "DREAMer," who cost taxpayers hundreds of thousands of dollars over his short life, is suing the US after being deported back to Mexico in February.

USA Today writes in their fluff piece:

Federal agents ignored President Trump's pledge to protect from deportation undocumented immigrants brought to the United States as children by sending a young man back to his native Mexico, the first such documented case, a USA TODAY examination of the new administration's immigration policies shows.

After spending an evening with his girlfriend in Calexico, Calif., on Feb. 17, Juan Manuel Montes, 23, who has lived in the U.S. since age 9, grabbed a bite and was waiting for a ride when a U.S. Customs and Border Protection officer approached and started asking questions.
Montes was twice granted deportation protections under the Deferred Action for Childhood Arrivals (DACA) program created by President Barack Obama and left intact by President Trump.

Montes had left his wallet in a friend's car, so he couldn't produce his ID or proof of his DACA status and was told by agents he couldn't retrieve them. Within three hours, he was back in Mexico, becoming the first undocumented immigrant with active DACA status deported by the Trump administration's stepped-up deportation policy.

"Some people told me that they were going to deport me; others said nothing would happen," Montes told USA TODAY in his aunt and uncle's home in western Mexico where he's been staying. "I thought that if I kept my nose clean nothing would happen." He asked that the exact location of their home be withheld.

Since taking office, Trump has followed through on his campaign pledge to crack down on illegal immigration by signing executive orders to step up enforcement against the estimated 11 million undocumented immigrants living in the U.S. The new policy calls for expanding the criteria for detaining and deporting undocumented immigrants and hiring thousands of new agents.

Yet Trump declined to revoke the DACA protections Obama had granted to more than 750,000 undocumented immigrants, repeatedly saying he had a soft spot for these young people who are leading productive lives and have few, if any, ties to the countries of their birth.

"They shouldn't be very worried," he told ABC News in January. "I do have a big heart."

Even so, DACA enrollees are being targeted by immigration authorities. At least 10 are in federal custody, according to United We Dream, an advocacy organization made up of DACA enrollees and other young immigrants.
The horror. The president isn't a dictator. He's dead wrong on that issue and yet it's gotten him nothing.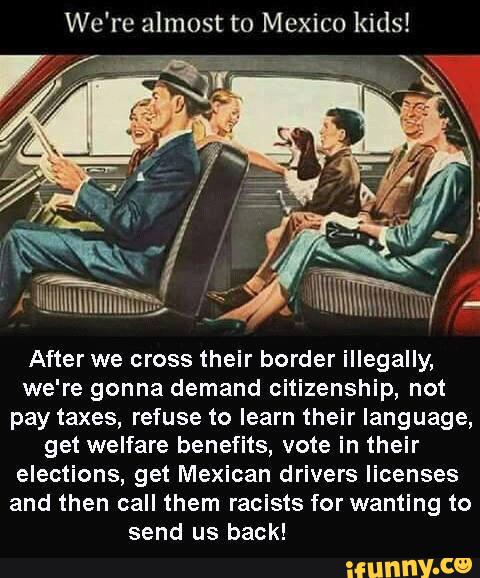 Despite he and his parents having paid nothing into the system, Montes cost taxpayers hundreds of thousands of dollars:

[Montes] suffered a traumatic brain injury as a child that left him with learning disabilities that meant a constant struggle to keep up in school and everyday conversations, according to Hincapiť. Despite those challenges, he made it through special education courses and graduated high school in 2013. He started taking welding classes at a Southern California community college and paid for it by picking crops in California and Arizona.
Those things are not cheap. His public schooling cost taxpayers over $10,000 a year. Special needs courses cost more than double. We could easily be looking at $23,000 a year for this DREAMer's education. That's $276,000 for K-12 alone. If we subtract four years due to his being 9 when he arrived, that's still $184,000. Community colleges are also heavily subsidized, California taxpayers reportedly pay some $65 million a year toward tuition for illegal immigrants.

After 15 or so paragraphs they finally admit he's a criminal with four convictions:

Court records show he has four convictions: one for shoplifting in January 2016, and three for driving without a license, most recently three months ago.
Montes tried to break back into the US after being deported and was arrested again.

Officers walked him to the U.S.-Mexico border and released him into Mexicali.

There, he found a friend who put him up for the night. He called another friend, who drove across the border to return his wallet and bring fresh clothes. Then things got worse.

Montes said he was jumped from behind, mugged and beaten. At that point, he decided he needed to get back home.
How convenient for this sob story.
He saw some people using a rope to climb over a section of the border wall and joined them. He was quickly captured by federal agents, questioned again and deported again.

Burke, the DHS spokeswoman, said the department had no record of Montes being arrested and deported from California as he described. Instead, it only had a record of him being caught after climbing the wall on Feb. 19.
More evidence of lies. The only sob story here is the way taxpayers are looted and our own children are denied their own dreams because their parents' and grandparents' money is going towards subsidizing foreign lawbreakers.



Montes is a grown adult now who has a $200,000+ education he can use to his benefit in Mexico. He should be thanking America rather than suing us.

Follow InformationLiberation on Twitter and Facebook.