Media Attack Trump for Donating His First Paycheck to the National Park Service
Chris Menahan
InformationLiberation
Apr. 04, 2017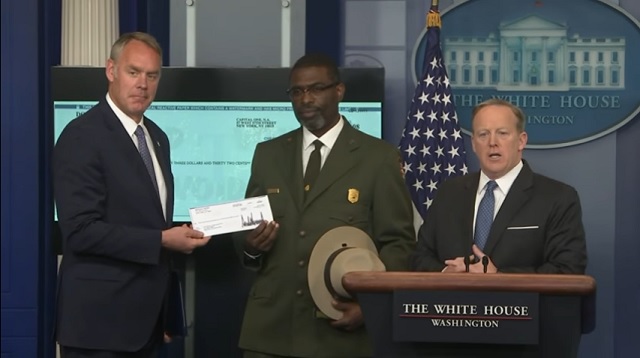 According to the media, President Trump can do no right, even when he's giving his paycheck away.

On Monday, Trump donated his entire first $78,333.32 paycheck to the National Park Service:



While most politicians go into office to get rich, Trump is the first who could actually come out poorer.

If he does come out richer, the media will say he gamed the system for personal profit. If he comes out poorer, they'll attack him as a bad businessman, as they did after that earlier news came out.

This is how The Hill covered his new donation:



Even better, and my personal favorite, is this article from T. Becket Adams in the Washington Examiner, who is apparently a conservative.


After noting Trump was legally obligated to take a salary and could therefore not legally fulfill his pledge to take a salary of only $1, Adams wrote:

President Trump doesn't deserve praise for donating his first quarter salary to the National Park Service.

...[he] pledged to take no White House salary. He then revised that promise and vowed to donate the money to charity. Spicer then announced this week that the president's first taxpayer-funded paycheck would go to a taxpayer-funded agency.

If Trump is going to renege on a promise to forgo a salary because he learned only recently that the job to which he applied bars him from refusing a paycheck, he could at least give the money directly back to the taxpayers. He could assist, say, one of the privately held veterans groups he talked about during the election.

Funneling additional tax dollars into a federal agency is about as far off as possible from the spirit of pledging to take no White House salary at all, and it is amazing to see certain members of Trump's base cheer it.
Incredibly, that's not even satire. This is what people in the Trump hating media actually believe.

Follow InformationLiberation on Twitter and Facebook.