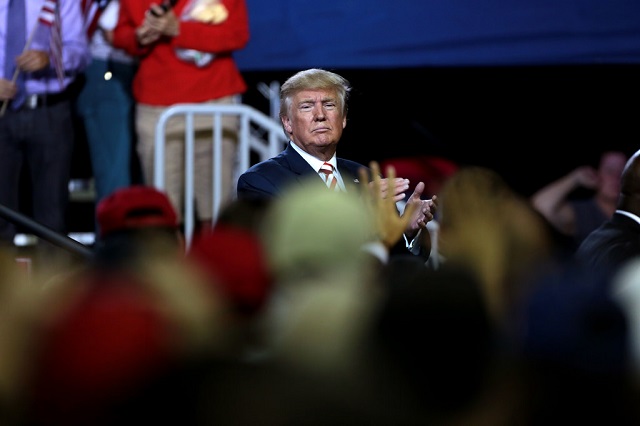 House Intelligence Chairman Representative Devin Nunes said Wednesday that on "numerous occasions" the intelligence community "incidentally collected intelligence" from Trump's transition team.

In other words, they were spied on.

From Fox News:

Members of the intelligence community "incidentally collected" communications from the Trump transition team during legal surveillance operations of foreign targets, a top Republican lawmaker said Wednesday afternoon.

House Intelligence Chairman Rep. Devin Nunes, R-Calif., said this produced "dozens" of reports which eventually unmasked several individuals' identities and were "widely disseminated."
He said none of the reports he had read mentioned Russia or Russians and he was unsure whether the surveillance occurred at Trump Tower -- as President Trump has suggested. Nunes also was unsure if then President-elect Trump was captured by the surveillance, which occurred in November, December and January.

"I recently confirmed on numerous occasions the intelligence community incidentally collected intelligence," Nunes said.
...The revelations could at least partially back up some allegations made by Trump earlier this month, when he tweeted that former President Barack Obama had "wiretapped" him, though top lawmakers have sharply disputed those claims. FBI Director James Comey also testified earlier this week he had no evidence to support the claims.

Nunes said he told House Speaker Paul Ryan earlier Wednesday about his findings. He later said he briefed Trump, calling some of the collection "inappropriate."

Trump commented briefly afterward, saying he felt "somewhat" vindicated by Nunes' comments.
As NSA whistleblower William Binney said, the government is spying on everyone.



We know they spied on General Flynn and leaked the contents of his communications to friendly reporters at The New York Times and The Washington Post to destroy him.

The deep state has been accumulating unchecked power for over 40 years now and their powers are without question beyond the reach this committee. Nunes himself said the FBI is not cooperating with their investigation.



Follow InformationLiberation on Twitter and Facebook.