EPIC: Trump Predicted Huma-Weiner-Clinton Scandal in Hilarious Fashion Back in 2015
Chris Menahan
InformationLiberation
Oct. 31, 2016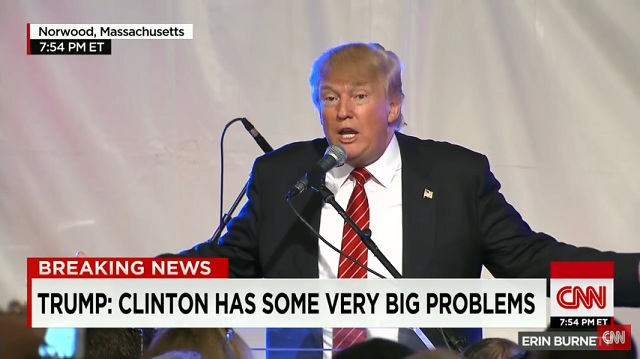 Hysterically funny video shows Donald Trump predict exactly that Hillary Clinton aide Huma Abedin would share "classified secrets" with her "perv" husband Anthony Weiner.

Speaking before a raucous crowd back in April 2015, Trump said: "Who is Huma married to? One of the great sleazebags of our time, Anthony Weiner. She is married to Anthony Weiner. You know, the little bing, bing, bing," he said, mimicking someone texting.

"Think about it. So Huma is getting classified secrets. She's married to Anthony Weiner, who is a pervert. He is. So these are confidential documents," he said.



"If you think that Huma isn't telling Anthony—who she is probably desperately in love with, in all fairness to Anthony, because why else would she marry this guy? Can you believe it? She can't see straight. Think of it."

He continued: "Do you think there's even a 5% chance that she's not telling Anthony Weiner, now at a public relations firm, what the hell is coming across? Do you think there's even a little bit of a chance? I don't think so."

Donald Trump was viciously attacked by Clinton Spokesman Nick Merrill at the time for the comments: "Donald Trump has spent the summer saying offensive things about women, but there is no place for patently false, personal attacks towards a staff member. He should be ashamed of himself, and others in his own party should take a moment to stand up to him and draw the line for once. It's embarrassing to watch, frankly."

LOL!




Actually, as usual, Trump was 100% correct.

I wonder if Merrill will come out and apologize?

Follow InformationLiberation on Twitter and Facebook.