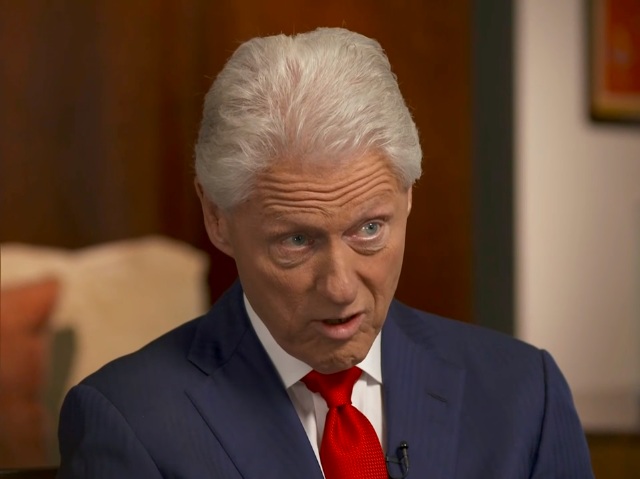 The latest dump of thousands of Clinton Campaign Chair John Podesta emails by Wikileaks reveals that the Clinton foundation was given a check for a million dollars to coincide with Bill Clinton's birthday. 

The generous donation came from… Qatar, the Persian Islamist state where women are subjugated and martial beatings and rape are legal.



"[Qatar] Would like to see WJC 'for five minutes' in NYC, to present $1 million check that Qatar promised for WJC's birthday in 2011," Ami Desai, director of foreign policy for the Clinton Foundation, wrote in 2012.

The email was distributed among several Clinton aides.

The thread also reveals that Qatari officials put aside $20 million for development in Haiti, following the huge earthquake that killed almost one quarter of a million people.

Desai wrote that the Qataris "would welcome our suggestions" from the Clintons as to how best to invest in Haiti.

The revelations underscore the theme of 'pay to play' while Hillary was Secretary of State.

"I think when you look at both the State Department and the Clinton Foundation in Haiti, that line was pretty faint between the two," notes Jake Johnston, analyst at the nonpartisan Center for Economic and Policy Research.

"You had a lot of coordination and connection between the two, obviously. And I think that raises significant questions about how they were both operating." Johnston adds.

While Hillary Clinton's campaign and the journalists in her pocket continue to push the notion that GOP nominee Donald Trump is a misogynist, while she is a champion of women's rights, this email clearly shows that Hillary has accepted funds from a country that literally treats dogs better than women.

Homosexuality is also outlawed in Qatar. Penalties for sodomy include one to three years in prison, and sex outside of marriage is punished under Sharia law by flogging or even the death penalty.

But lets not get bogged down in all this because Donald Trump said the word 'pussy' in 2005.

The massive amount of emails released by Wikileaks continue to turn up bombshell after bombshell on the Clinton campaign, yet the corporate media is barely covering the issue. Those within the mainstream media who are covering the emails, are pushing the narrative that there is nothing of substance in the emails.

During an appearance on MSNBC's "Andrea Mitchell Reports," New York Times political reporter Amy Chozick stated that "we haven't really seen" a "smoking gun" in the emails.



"In terms of a smoking gun, we haven't really seen one, and I think, as journalists, we really have to be cautious, because, these dumps sometime happen, and everything's authentic until something is doctored or inauthentic, and at the end of the day, these were -- this was an illegal breach on John Podesta's emails," Chozick said.

"So, I think we have to be cautious when we dig through these. And certainly we haven't seen anything that, as the Trump campaign would like, to be sort of that smoking gun." the reporter added.

Chozick's claims are ridiculous, yet unsurprising given that many of the revelations have been about how Hillary has the media in her pocket, having veto privileges with the New York Times, and staffers bragging about how certain reporters will parrot Clinton talking points.