MSNBC Doc on Hillary's Collapse: "Looks Like She Could Have Just Lost Her Balance"
Chris Menahan
InformationLiberation
Sep. 11, 2016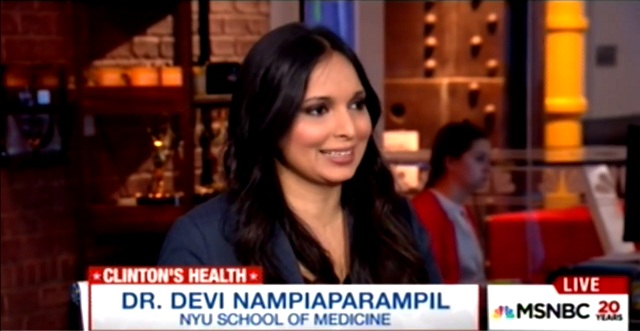 Hillary Clinton's collapse is nothing to worry about, she probably just "lost her balance" because her "knee buckled," at least that's what this doctor on MSNBC wants you to believe.

While speaking with MSNBC's Chris Jansing, contributor Dr. Devi Nampiaparampil said she can't tell from the highly disturbing video of Hillary Clinton passing out whether or not Hillary is "near fainting," or if she "just lost her balance" due to her "knee buckling."

"From that video I can't tell if she's near fainting or anything like that, it looks like she could have even just lost her balance, just with her knee buckling or something, so it's not clear from that," she said.



I guess that settles it folks, MSNBC has informed us her knee just buckled!

This video below showing she not only lost balance but passed out entirely, as evidenced by her motionless foot being dragged, is clearly somehow cleverly edited, or else it's just our lying eyes trying to convince us she passed out because that's what we want to believe.

In reality, she calmly walked into the van without any assistance and is at the peak of health.



As they say, it could "happen to anybody," and after she came out from Chelsea's place, Nampiaparampil assured us she looked "very healthy" and "comfortable."

How interesting that her own doctor just came out and said she has pneumonia:

Hillary Clinton was diagnosed with pneumonia on Friday, her doctor said in a statement Sunday after the Democratic nominee left a 9/11 memorial ceremony due to what her campaign said was overheating.

"Secretary Clinton has been experiencing a cough related to allergies. On Friday, during follow up evaluation of her prolonged cough, she was diagnosed with pneumonia," her doctor, Lisa Bardack, said. "She was put on antibiotics, and advised to rest and modify her schedule. While at this morning's event, she became overheated and dehydrated. I have just examined her and she is now re-hydrated and recovering nicely."
Hillary said she's "feeling great" though, so it must be true. After all, don't most 68-year-old women feel great when they have pneumonia?

Perhaps next Dr. Devi Nampiaparampil will tell us John McLaughlin is at the peak of health.

Follow InformationLiberation on Twitter and Facebook.