SHOCK VIDEO: Hillary Clinton Faints, Has to Be Held Up During Disturbing 'Medical Episode'
Chris Menahan
InformationLiberation
Sep. 11, 2016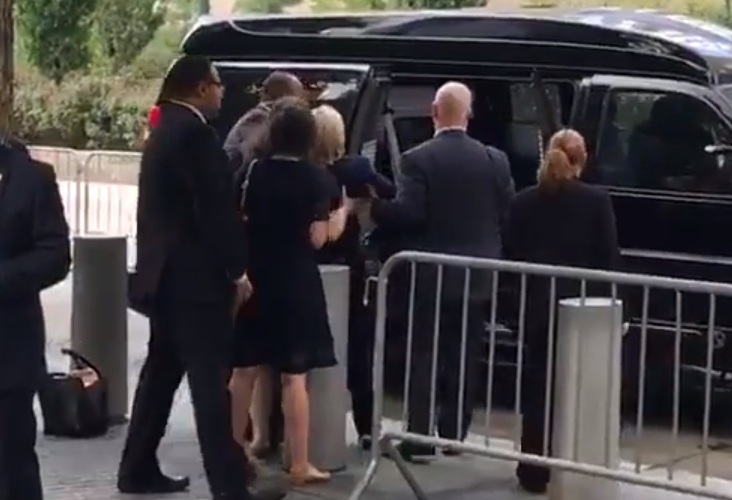 Shocking video shows Hillary Clinton experiencing a highly disturbing "medical episode" after leaving early from a 911 commemoration ceremony this morning.

A source informed Fox News of the incident shortly after it occurred and the story blew up online, forcing Hillary's people to confirm the event happened in a statement this afternoon, though they clearly lied by claiming she merely "felt overheated."

Even though the press was reportedly barred from the location, a witness by the name of Zdenek Gazda caught incredible high-definition video of the incident and shared it on his Twitter.
[YouTube Mirror]

Zoomed in footage shows her foot was dragging, meaning she lost consciousness:



The video shows Clinton suddenly shaking while struggling to stand, her African-American "handler" is seen holding her up by the left arm, two other women rush to hold up her from behind and another secret service agent grabs her by her right arm to physically carry her into their vehicle.

The secret service then rushes to surround her and block anyone from filming her while she's loaded into their black SUV.

It must be noted how calm her "handler" and the other secret service agent remained while manhandling her. That's a strong indicator this is not the first time this has happened.

This video shows without question this woman is not healthy enough to be president.

Hillary Clinton absolutely must release her full medical records immediately and undergo a thorough medical examination.

Follow InformationLiberation on Twitter and Facebook.