Germany: Right-Wing AfD Member Trolls Leftists by Showing up to Parliament in a Burka
Chris Menahan
InformationLiberation
Sep. 02, 2016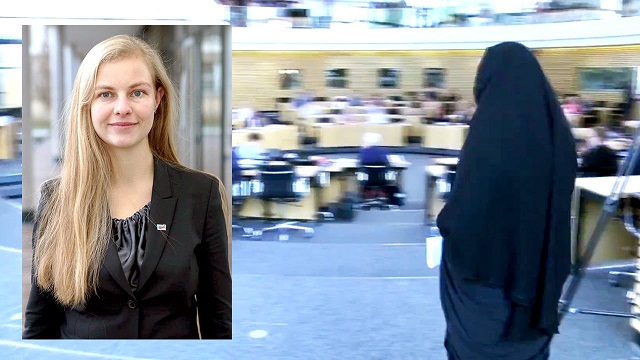 Germany's "far-right" AfD party is trolling their way into power!

From Face of a Dying Nation:

As a result of the recent wave of illegal mass immigration into Germany, the legalization of Burqas, Niqabs and "Burkinis" in public spaces as well as child marriages are actual talking points in German parliaments. The "progressive" Left considers the imprisonment of women under thick black garments as well as forced marriage of children to old men culturally enriching, "progressive" and "tolerant" and hopes to legalize it, even in public service. Some of the more radical feminists, like Anne Wizorek, go as far as to call full body veils "tools of emancipation and feminine freedom".

To make a point and protest this insanity, deputy chairwoman of the patriotic Alternative for Germany (AfD) party Wiebke Muhsal dressed up in a traditional Muslim veil, covering her entire body, planning to give a speech at the Thuringia parliament.
Ironically, she was refused to speak: The session was cancelled until she took off the Burqa. Despite the large support for the legalization among the socialists, they refused to listen to her speak while wearing the veil. She was unanimously received with hissing and disapproval by members of every single party except hers.

One called the act "disgusting" and received applause for it, one exclaimed that "we're not in a theater".

Once gain, the traitorous politicians of Germany displayed how hypocritical and detached from reality they have become. They want to impose barbaric medieval suppression of women on the German people but cannot stand to hear a 5 minute speech from a woman wearing a Burqa.
Follow InformationLiberation on Twitter and Facebook.