Right-Wing Belgians to March Through Jihadist Capital of Europe
Protesters to confront Islamists in Molenbeek
Paul Joseph Watson
Infowars
Mar. 29, 2016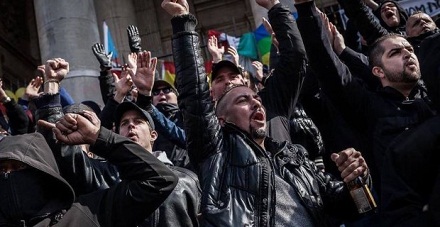 Right-wing protest group Casuals United Belgium is set to stage a controversial march through the Brussels district of Molenbeek, the area known as the jihadist capital of Europe.

A post on the group's Facebook page calls on as many people as possible to attend a rally in Molenbeek which will begin at 3pm on Saturday.

"This is the opportunity to express our displeasure in the den of the lion," states the post.

Reporting on the planned march one Belgian news outlet remarks, "The riots on Sunday in Brussels seem to be only the beginning".

That's a reference to demonstrations which took place on Saturday at the site of the memorial to the victims of the Brussels attacks.

500-1000 right-wing protesters clashed with police, who at one point used a water cannon to disperse what some in the media described as a riot.

Casuals United Belgium are a collective of soccer fans, many would call them hooligans, who put aside club rivalries to band together in opposition to what they claim represents the Islamization of Europe.

A march through Molenbeek would be almost certain to spark a massive confrontation between the district's Muslim population and right-wing demonstrators.

As the New York Times reports, Molenbeek is widely known as Belgium's "Jihad Central," and was home to numerous terrorists including Paris massacre mastermind Abdelhamid Abaaoud, who grew up in the area.

Paris attacker Salah Abdeslam also hid in an apartment in Molenbeek for months after the Paris attack, aided by friends and neighbors who helped him evade a manhunt for four months.

Myself, along with Infowars reporter Joe Biggs and cameraman Michael Zimmerman also visited Molenbeek days after the Paris massacre, only to be chased out of the district by groups of Muslims.