Toronto: Man Yells "F**k White People" During Machete Attack—Not Charged With Hate Crime
Christopher Menahan
InformationLiberation
Dec. 24, 2015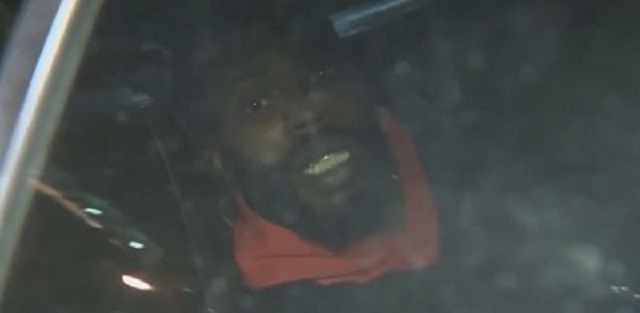 An African-American man from Queens, New York who yelled "fuck white people" before launching an unprovoked machete attack on a random 30-year-old white male outside a mall in Toronto, Canada is being charged with attempted murder, aggravated assault, assault with a weapon, and possession of a weapon—but he is not being charged with a hate crime.

From CBC:

Toronto Police Sgt. Gale Corra said the two men had no previous contact and no history with each other.

"They may have just been crossing each other on the street," said Corra.

Police say they were called at 4:37 p.m. ET about the incident, which happened near Bay and Dundas streets.

A witness, Terence Yip, who works in technological support and maintenance for CBC, told CBC News that he was heading south on Bay Street when he heard yelling. He said one man was swinging at a man who was holding a guitar. Yip said a woman was yelling for police. He said a lot of people were in the area at the time.

Yip also tweeted that the attacker, a black man, yelled "F--k white people" before allegedly attacking the victim, who is white. He said the alleged attacker's machete was "probably the length of my arm. It was pretty big, a substantial weapon."

Yip said the man being attacked was on his back defending himself with his legs, while the man with the machete was swinging the knife at the man's legs.

"I've never seen anyone openly attack someone like that," said Yip. "It was extremely aggressive to the point where it was obvious that it was an attack."
A bystander managed to break up the fight and buy enough time for the victim to escape without serious injury. A private security guard then tackled the suspect from behind and subdued him until police could arrive.

A commenter named "Kantata," who claims to have witnessed the attack, says the attacker, who has since been identified as 35-year-old Arlington Thompson, "was yelling 'No more white people! F*** white people! Down with white people!' over and over."





CP24 has video showing police taking the man down after the assault, Thompson can be heard muttering something about "white people" and shouting "stand up for yourself black people!"



Earlier this year 24-year-old Brittany Bachinsky was charged with a hate crime for telling Calgary cab driver Safou Ranna he "shouldn't be allowed in [her] country" and for threatening to "f**k [him] up."

Bachinsky's verbal threat got her charged with a hate crime, yet Thompson's verbal threat followed by a violent unprovoked machete attack has not merited the same charges.

What do you think, if it was a white man who attacked a random black man with a machete while screaming "f**k black people" would he be given the same treatment?

UPDATE: The attacker, Arlington Thompson is from Queens, New York.

The first line of the article and the headline have been updated to reflect this new information.
_
Christopher Menahan runs the news site InformationLiberation.com. He thinks hypocritical hate-crime laws should be abolished. Follow @infolibnews on twitter.