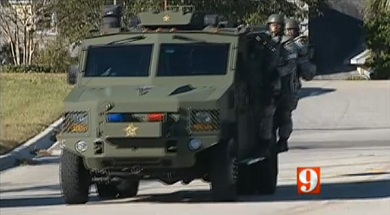 Orange County, Florida sheriff's deputies waging an armed raid for a suspected pot dealer entered a family's home guns blazing and shot a teen girl and her dog, only to find out the suspect they were looking for hadn't lived in the home for weeks -- despite their claim to have "surveilled" the home extensively prior to the raid. All the cops ended up finding was some perfectly legal ammunition and some pot seeds and marijuana paraphernalia. All charges against the suspect were later dropped, but their dog is dead and his sister lives with horrible back pain due to the deputies' murder attempt.

WFTV reports:

ORANGE COUNTY, Fla. — A mother and her daughter are suing the Orange County Sheriff's Office after one of them was injured during a SWAT team search.

The women, who didn't want to be identified, said the Sheriff's Office SWAT team came looking for a family member who didn't live at the home back in 2010.

"I got up and went towards the door and literally once I went towards the door, boom!" the daughter said.

The woman was a minor at the time of the incident and said she was home alone when deputies showed up.

"I was 17. I was 5 feet 2 inches and 100 pounds wet," she said. "And they came in shooting."

The SWAT team apparently opened fire inside the home and a family dog was killed.

"The dog was startled and ran to the closet, to the room, and when he ran to the room is when they shot him," she said.

An incident report states SWAT team members said the dog aggressively came toward them when they entered the house.

[...]Deputies found ammunition, but no weapons in the home. Cannabis seeds and drug paraphernalia was found in a room the suspect had lived in, the report states. He was later arrested, but court records show the charges were eventually dropped.


The majority of Floridians believe marijuana should be fully legalized. Nonetheless, the state's prohibitionist army feels it appropriate to raid users' homes armed to the teeth and potentially murder them for using it.
_
Chris runs the website InformationLiberation.com, you can read more of his articles here. Follow infolib on twitter.