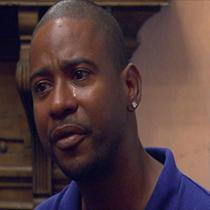 Kelin Harris, brother of the man shot by New Orleans police, said he was assaulted by the NOPD while his family mourned Brian Harris' death.

The family doesn't think New Orleans police officers followed proper procedures before gunning down 39-year-old Brian Harris.

The killing happened Friday night inside Harris's home on Allison Road. Now, four days after the husband and father of three was shot to death in his New Orleans East home, his family remains shocked.

Tyralyn Harris, Brian's wife, called police Saturday night after her husband Brian was acting despondent over a recent lack of work. They suspected he had taken sleeping pills.

"I heard him talking to them. He was calm, they weren't," she said.

Mrs. Harris says her husband was a devoted dad of kids ages two, eight and 12, and she questions why counselors weren't called to help during the incident.

"You had the wife in the house, officers there... this is a situation where they decided to gain access and he was armed with a knife," NOPD Deputy Superintendent Marlon Defillo said.

Police say they tried twice to subdue Harris, shooting him with tasers.

"He managed to pull the prongs from his body and kept moving. It was only after the officers realized that they were still moving forward armed with a knife that the third officer used his weapon," Defillo said.

With his wife and three kids nearby, Harris was wounded and rushed to the hospital where he died.

Video Report:

"I stopped them. I said 'I called y'all for help. Why these assault rifles? I didn't mean for him to be killed," Mrs. Harris said.

"The night my brother died, one of the officers assaulted me just because I asked them to leave the room while my family was in mourning," alleged the victim's brother, Kelin Harris.

As is customary in any police shooting, the Public Integrity Bureau is investigating this incident, but nothing in the Danziger case developed until after the feds came in, and the Harris family says they won't wait five years.

Wednesday afternoon, a news release stated that, in an unprecedented move, Defillo requested "the Federal Bureau of Investigations to review the incident where Officer Stephen McGee fatally shot Harris after officers were threatened."

Now, a lawsuit is pending.

"What we have is an entire citizenry that has a disdain for law enforcement because of how they act," said Jason Williams, the family's attorney.

The Harris's say they won't rest, until justice is found.

More details from WWLTW Eyewitness News:

"Without speaking to his wife, and without any counselors or social workers, they rushed into the home with weapons," Williams said. "One was carrying an assault rifle."

The officers then began speaking with Harris, who according to police, had barricaded himself in a bedroom.

Officers also said that he was armed with a knife. But Williams says it was in fact a pocket knife.

"At no point in time does the NOPD press release say he took the pen knife and charged at officers. Quite the opposite. The NOPD press release says Mr. Harris was found laying down in his bedroom," Williams said.
WWLTW Video Report: