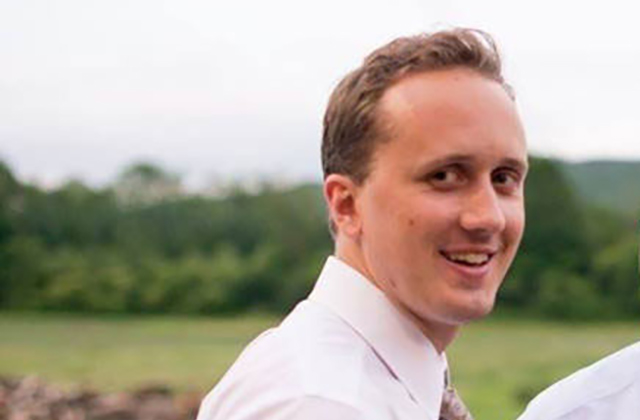 Pro-Trump Twitter power user Douglass Mackey, aka "Ricky Vaughn," was sentenced to 7 months in prison on Wednesday for sharing joke memes on Twitter claiming Democrats could vote for Hillary Clinton by phone in the 2016 election.

From Courthouse News, "Pro-Trump troll sentenced to seven months over Election Day shenanigans":

Douglass Mackey, the man "on trial for memes," was sentenced to seven months in prison Wednesday for his efforts to trick Hillary Clinton voters into staying home on Election Day in 2016.

Mackey was convicted on a single count of conspiring with others to interfere in the 2016 presidential election after he shared from his far-right Twitter account phony advertisements that encouraged Clinton supporters to vote via text message.

"Avoid the line. Vote from home," one meme says. "Text 'Hillary' to 59925."

U.S. District Judge Ann M. Donnelly handed down the sentence, calling the conspiracy "nothing short of an assault on our democracy."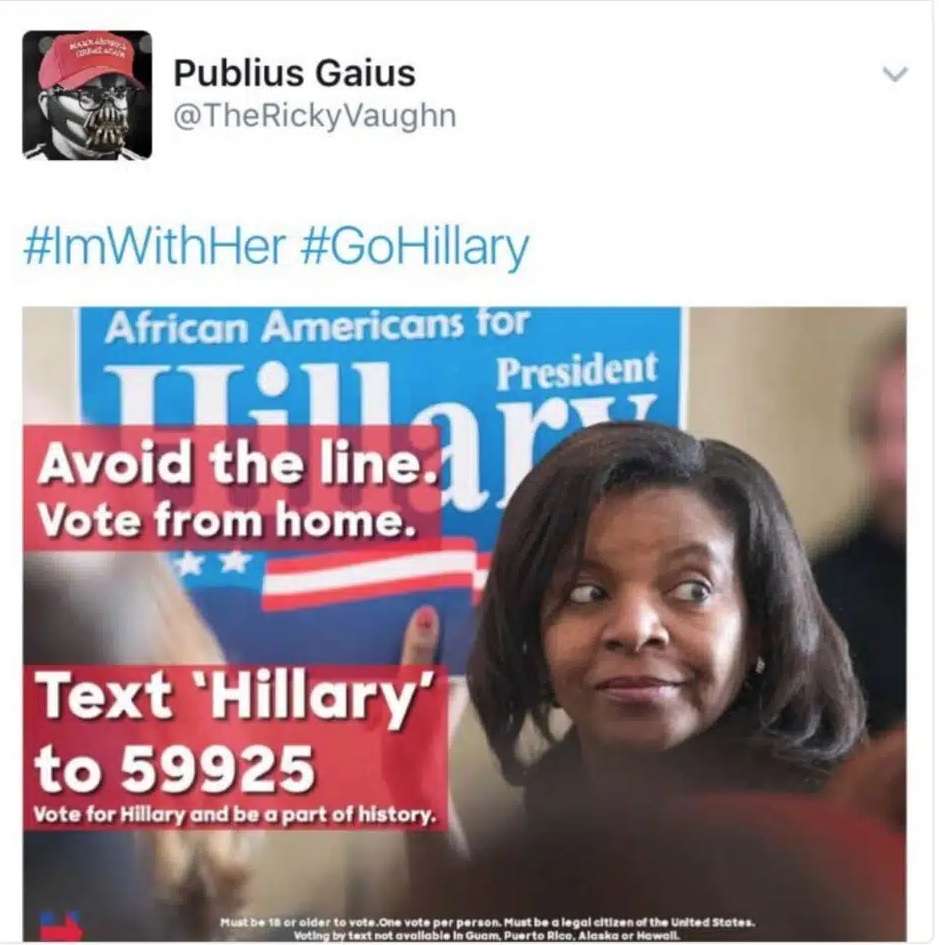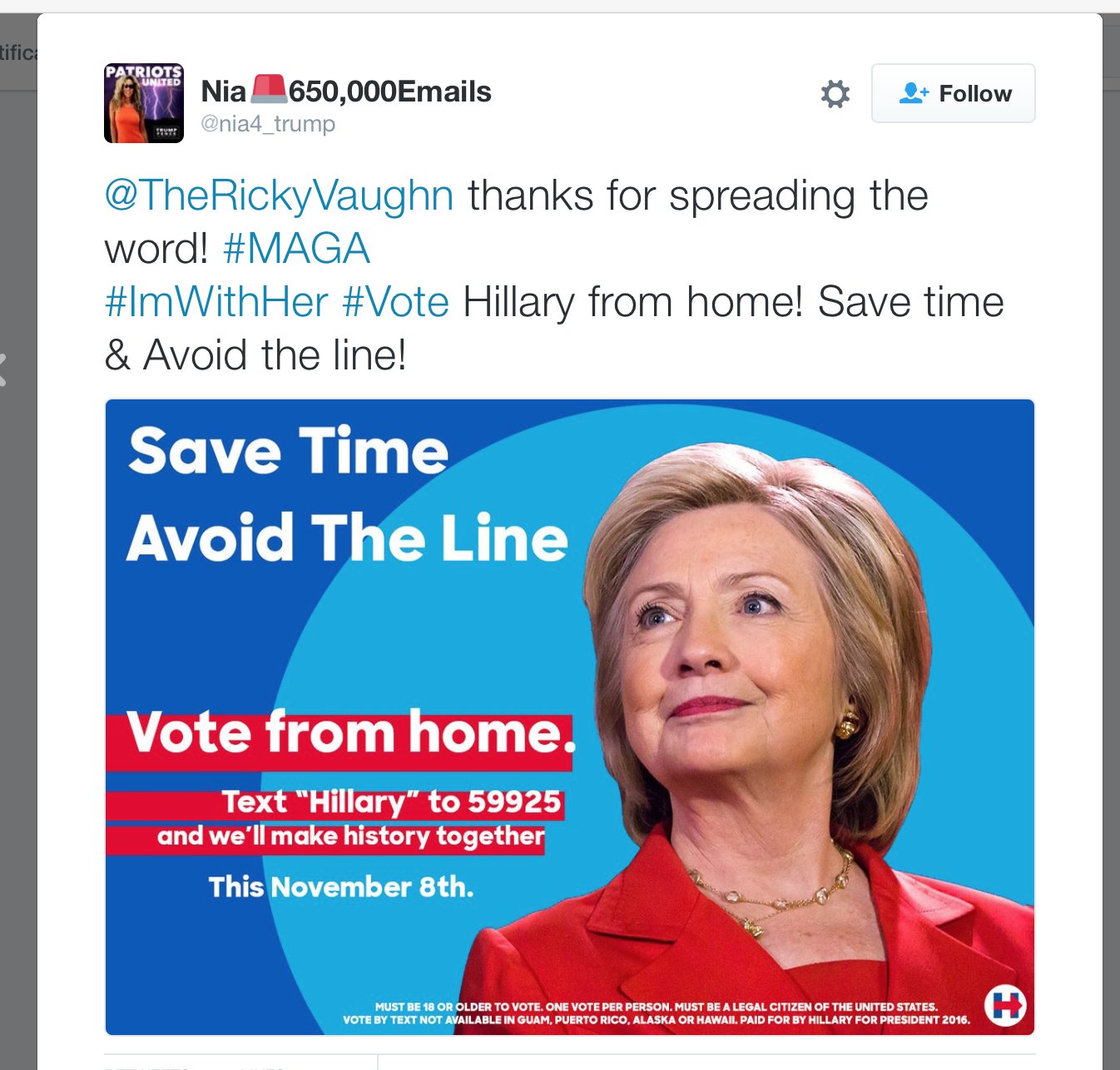 Mackey was also a member of private direct-message groups on X, formerly Twitter, where he discussed and agreed with others on how to disseminate messages "intended variously to provoke, mislead, and, in some cases, deceive voters in the 2016 presidential election," prosecutors said in a sentencing memo.

"Voting is the right that secures all other rights we hold dear," Erik David Paulsen, representing the U.S. government, said Wednesday. "They were committing fraud, one that was aimed at one of our most sacred rights in our democracy."

[...] Paulsen [said] a prison sentence was necessary to "send a message to the general public."

The "Text Hillary" memes also target specific groups, with one written in Spanish and another that featured a woman holding a sign that says "African Americans for President Hillary."

Prosecutors also pointed to Mackey's tweets where he's prejudicial against Black people, women and immigrants.

In one tweet, he described Black people as "gullible" and wrote, "Black people will believe anything they read, okay Twitter. And we let them vote why?"

In other tweets, he said immigrants "cannot be trusted to vote" and said, "women are children with the right to vote." He also implied his disapproval of women voting, tweeting the hashtag "#Repealthe19th."

Donnelly emphasized that Mackey's sentence has nothing to do with his political views or his stance on women or people of color, even if his beliefs are "repellent," she said.

"You are not being sentenced for your political beliefs or for expressing those beliefs," Donnelly said.
Anti-Trumpers shared similar memes and none of them were even charged, so yes, Mackey was sentenced to prison entirely for his political views.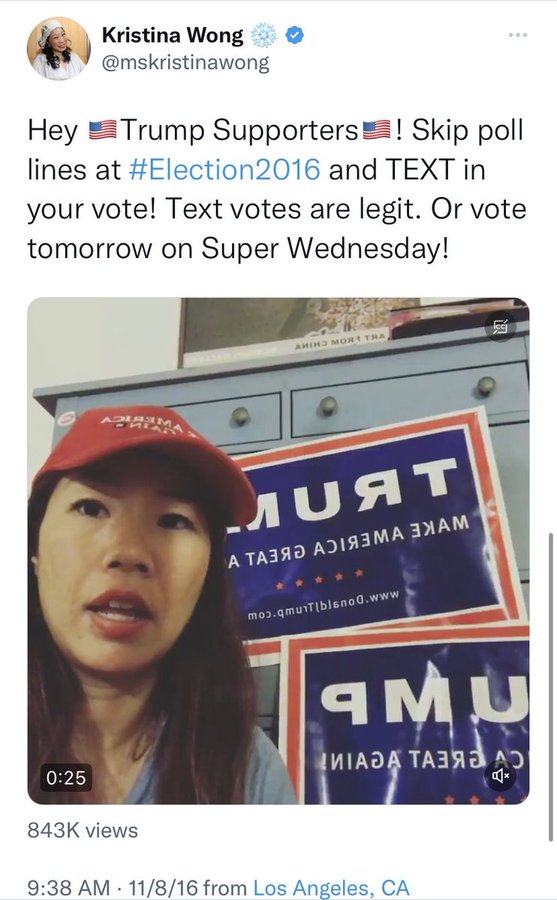 Zero evidence was ever produced showing anyone was actually tricked out of voting from the 4chan memes he (and many others) shared.

The charge against him carried a maximum sentence of 10 years in prison. Considering the draconian sentences handed down to J6 protesters, his sentence could have been a lot worse. Nonetheless, this is a travesty of justice and Mackey will go down in the history books as the first man jailed for sharing joke memes.

UPDATE: Mackey addressed the sentence on Wednesday by sharing an incorrect headline from the Daily Beast claiming he was sentenced to "7 years" in prison along with a woozy face emoji.


Follow InformationLiberation on Twitter, Facebook, Gab, Minds and Telegram.