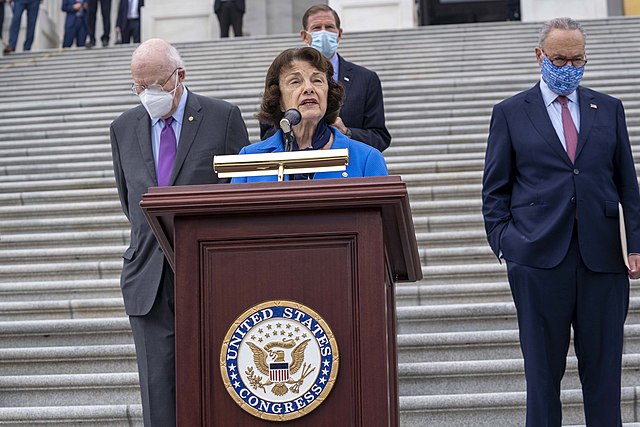 California Senator Dianne Feinstein, who profited off the war in Iraq she voted for through massive government contracts handed to her fabulously wealthy husband, died on Thursday night at age 90 at one of her homes in Washington, DC.





From The Times of Israel/JTA, "Dianne Feinstein, the US Senate's longest-serving Jewish member, dies at 90":

Dianne Feinstein, the long-serving Jewish senator from California who rose to national prominence when she appeared before cameras with her hands stained with the blood of a murdered colleague, has died.

Feinstein, who had recently faced criticism for remaining in the Senate despite clearly failing health, was 90 years old. She died Thursday night, major news organizations are reporting.

Feinstein had served in the Senate for more than three decades as its longest-serving woman.

Feinstein became a national figure in 1978 when she was the president of the Board of Supervisors in San Francisco and found the body of fellow supervisor Harvey Milk.

Milk, who was Jewish, was the first openly gay elected official in the city's history and was assassinated by a former colleague, Dan White. White also killed San Francisco Mayor George Moscone.
ToI noted she was a champion of feminism, gun control and US intelligence community abuses.

"I would be proud to carry on just a portion of their legacy," Representative Adam Schiff, a California Democrat who has signaled his intention to run for Feinstein's seat, said in February when Feinstein announced she would not run for another term, regarding Feinstein and Boxer. Referring to a traditional Jewish imperative to repair the world, he added, "I would love to bring that passion for tikkun olam with me to the US Senate."

Laws long on the liberal wish list were suddenly ripe for passage, among them an assault weapons ban that Feinstein took the lead in passing in 1994. It lapsed after 10 years, and Feinstein since 2004 persistently, and unsuccessfully, sought to reinstate the ban.

Also in 1994, Feinstein joined then-senator Joe Biden in passing the Violence Against Women Act. When it lapsed in 2019, Feinstein led the charge to reauthorize it, but faced conservative resistance because the reauthorization bill added protections for LGBTQ partners and sought to close the "boyfriend loophole," extending restrictions on gun ownership to people who had abused partners to whom they were not married.

It took until 2022 for Feinstein to overcome resistance and reauthorize the Act. It was a compromise: The LGBTQ protections remained in, but the boyfriend loophole was out; Feinstein was unable to overcome gun lobby resistance.

[...] Feinstein, who was the top Democrat on the Senate Intelligence Committee from 2009 to 2017, also differed from her colleagues -- particularly Ron Wyden, the Jewish Democrat from Oregon -- in defending the intelligence community even after a welter of leaks toward the end of the 2000s revealed its abuses.

She defended the intelligence agencies' collection of American citizens' metadata, the wealth of information that can track where a person is with whom they communicate and for how long, among other details. "It's called protecting America," Feinstein said in 2013, claiming the practice was routine.

As her party moved left, however, so did she; in 2014, as committee chairwoman, Feinstein declassified a report on the CIA's use of torture after the September 11, 2001 attacks, over the objections of then-US president Barack Obama. In 2017, she said her decision in 2002 to be one of 29 Senate Democrats to authorize the Iraq War would haunt her, in part because she bought into the false claims the intelligence community was peddling.

"It is the decision I regret most and I have to live with it," she told author Gail Sheehy.

[...] On one issue, LGBTQ rights, Feinstein always tracked to the left of her party; in the 1990s she was one of just 14 Democrats to vote against the Defense of Marriage Act, which defined marriage as being between a man and a woman. She became a leader of a years-long effort to repeal the Act, which was successful in 2022.
Feinstein was also a champion of open borders and amnesty.

Not mentioned in ToI's story is the fact Feinstein profited handsomely off the Iraq war, which she voted for in the Senate.

As the SF Gate reported in 2003, "War brings business to Feinstein spouse / Blum's firms win multimillion-dollar defense contracts in Iraq, Afghanistan":

When it comes to scoring mega-military-related contracts, Sen. Dianne Feinstein's multimillionaire husband, Richard Blum, is right in the thick of things.

First up: a contract announced last week between the Army and URS Corp., the San Francisco planning and engineering company that specializes in defense work -- and that happens to be partly owned by Blum's investment firm.

The contract -- which could grow to $600 million -- is to help with troop mobilization, weapons systems training and anti-terrorism methods.

That's on top of a $3.1 billion Army contract that URS snared back in February for weapons systems and homeland defense.

Next up: Perini Corp., which qualified earlier this month for as much as $100 million of defense work in Iraq and elsewhere. The Massachusetts-based company is already busy building barracks and other facilities for the new Afghan army -- a separate contract worth $28 million.
Feinstein purchased a $16.5 million Pacific Heights mansion with her spoils of war in 2006: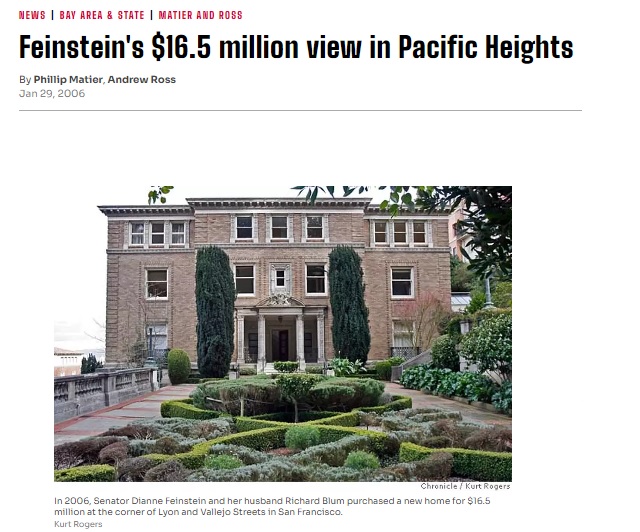 In a just country, Feinstein would have been imprisoned for corruption but instead she lived a life of luxury enjoying the finest of American society while working relentlessly for our downfall.


Feinstein "notched plenty of records during her lifetime," including becoming "one of the richest U.S. lawmakers, with a net worth as high as $69.4 million this year," CBS News reports. "[Her late husband's] net worth was estimated to exceed $1 billion."

"Feinstein's most recent financial disclosure form, filed in May, shows that her wealth included millions held in a blind trust -- a standard financial arrangement for members of Congress -- U.S. Treasury bills and other low-risk instruments, and money stashed in several large bank accounts. She also owned a condominium in Hawaii worth as much as $5 million, according to the document."

We may have lost our country over the three decades Feinstein "served" in the Senate but she and her cohorts gained the world.

Follow InformationLiberation on Twitter, Facebook, Gab, Minds and Telegram.