Russia Says It Thwarted Ukrainian Counteroffensive in Donbass
Chris Menahan
InformationLiberation
Jun. 05, 2023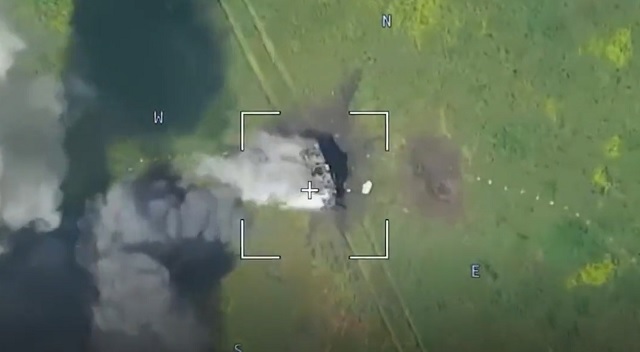 The Russian Ministry of Defense on Monday claimed they put down Ukraine's counteroffensive in the southern part of the Donbass.



From Reuters:

Russia said on Monday its forces had thwarted a major Ukrainian offensive at five points along the front in the Ukrainian region of Donetsk and killed hundreds of troops while Ukraine accused Moscow of spreading lies.

It was not immediately clear whether or not the attack represented the start of a Ukrainian counteroffensive which Kyiv has been promising for months to drive out Russian forces after the invasion of February 2022.

Russia's defence ministry said Ukraine had attacked on Sunday morning with six mechanised and two tank battalions in southern Donetsk, where Moscow has long suspected Ukraine would seek to drive a wedge through Russian-controlled territory.

"On the morning of June 4, the enemy launched a large-scale offensive in five sectors of the front in the South Donetsk direction," the defence ministry said in a statement posted on Telegram at 1:30 a.m. Moscow time (2230 GMT).

"The enemy's goal was to break through our defences in the most vulnerable, in its opinion, sector of the front," it said. "The enemy did not achieve its tasks, it had no success."
Ukraine told the media they're not going to tell them anything about their operations and won't say whether this marked the start of their counteroffensive.

Nonetheless, it's expecting they're going to try to cut off Russia's land bridge from Crimea:

Russia now controls at least 18% of what is internationally recognised to be Ukrainian territory, and has claimed four regions of Ukraine as Russian territory.

For months, tens of thousands of Russian troops have been digging in along a front line which stretches for around 600 miles (1,000km), bracing for a Ukrainian attack which is expected to try to cut Russia's so-called land bridge to the Crimean peninsula, which Russia annexed in 2014.
The The Wall Street Journal has more:

Military analysts have said that Ukraine's primary goal would be to cut the land bridge that connects Russia to Crimea, the southern Ukrainian peninsula that Moscow seized in 2014. To do that, Kyiv would have to cut through Russian-held territory in the Zaporizhzhia region.

Rybar, a pro-war Telegram channel linked to the Kremlin, also said that, in addition to the attacks in the Donetsk region, Ukrainian forces had begun an attack in the Zaporizhzhia region, near Mala Tokmachka.
This video is allegedly from Zaporizhzhia:


Ukraine released a dramatic Hollywood-style trailer for their counteroffensive around one week ago.


It appears they're off to a rough start.

Follow InformationLiberation on Twitter, Facebook, Gab, Minds and Telegram.