DOJ Seeks to Ban FBI Agents From Using Crime Stats in Law Enforcement
Chris Menahan
InformationLiberation
May. 11, 2023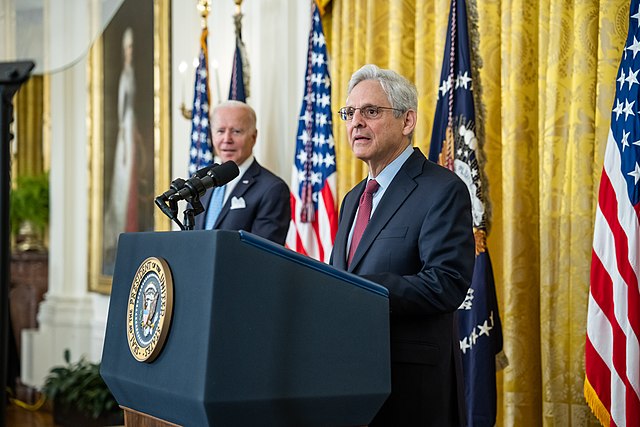 Attorney General Merrick Garland wants to ban FBI agents from using crime statistics to guide or inform law enforcement activities.

From The Daily Caller, "EXCLUSIVE: DOJ Proposal Would Ban FBI Agents From Using Community Crime Statistics In Law Enforcement, Docs Show":

A Justice Department draft proposal for updated anti-discrimination guidelines would prevent FBI agents and other federal law enforcement from using crime statistics in law enforcement activities, documents obtained exclusively by the Daily Caller show.

The documents were provided by a source familiar with the proceedings who requested anonymity due to fear of professional retaliation.

The DOJ's new policy would expand restrictions against the use of protected characteristics in law enforcement activities, including the use of "facially neutral factors as a proxy" for certain protected characteristics.

FBI agents and other federal law enforcement officers would be banned from using a person's "actual or perceived race, ethnicity, gender, nationality, national origin, religion, sexual orientation, sex characteristics, disability status, or gender identity" in "any degree," the documents show. The ban even applies to scenarios where using protected characteristics might otherwise be lawful.

A specific example cited in the documents is "high crime areas" typically subject to "aggressive law enforcement." Directly or indirectly using protected characteristics to find suspects "reflects and invites bias," making it prohibited by the proposed DOJ guidelines.



[...] "[O]fficers and agents should not use statistics about arrest rates in particular communities when making decisions about where and how to focus their activities. Current and historical patterns of discriminatory law enforcement have led to higher rates of arrest in certain communities, particularly African American communities," the documents say.

Crime statistics are "inherently biased and unreliable" and using them "reproduces the very discrimination" the DOJ policy is designed to eliminate, the documents continue.
At the same time Garland is working to block FBI agents from profiling "high-crime areas," he's "encouraging and incentivizing" FBI agents to profile right-wing so-called "domestic violent extremists" for their political views.

Follow InformationLiberation on Twitter, Facebook, Gab, Minds and Telegram.