ADL's Greenblatt: 'If Kanye Wants to Make Amends ... It's a Long Road And He Hasn't Even Started Yet'
Chris Menahan
InformationLiberation
Mar. 27, 2023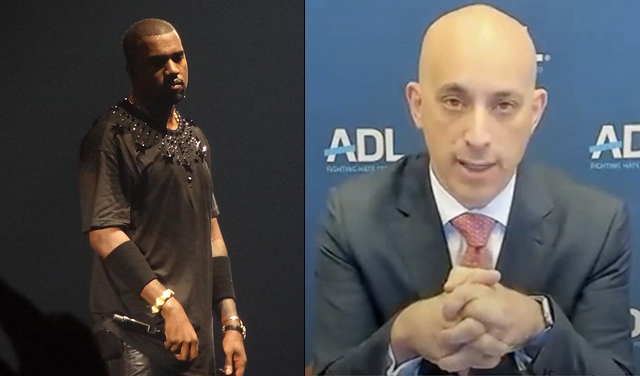 ADL CEO Jonathan Greenblatt let it be known on Sunday that if Kanye "Ye" West wants to "make amends" with the Jewish community it's going to be "a long road" and "he hasn't even started the journey."

"This is ridiculous and not remotely serious," Greenblatt said, quoting Ye's post about "lik[ing] Jewish people again" after watching Jonah Hill in 21 Jump Street. "If Kanye West wants to make amends for his vile #antisemitism, and to heal the pain he inflicted, it's a long road and he hasn't even started the journey."


As a reminder, this was the list of "six action items" that Kyrie Irving was told "he must complete" in order to play again in the NBA.

From The Athletic, "Nets inform Kyrie Irving of 6 action items to complete to return from suspension: Sources":

1. Issue an apology for posting a link to the movie on Oct. 27, condemn the harmful and false content and make clear that he does not have anti-Jewish beliefs.

2. Complete the anti-hate causes that Irving, the Nets and the Anti-Defamation League agreed upon in their joint release on Nov. 2 — including a $500,000 donation toward causes and organizations that work to eradicate hate and intolerance in communities. [As the wording there was deliberately vague, it must be noted this "donation" had to be paid directly to the ADL - Ed note.]

3. Complete sensitivity training created by the Nets.


4. Complete antisemitic/anti-hate training designed by the Nets.

5. Meet with representatives from the Anti-Defamation League, as well as Jewish community leaders in Brooklyn.

6. After completing 1 to 5, meet with owner Joe Tsai and lead franchise officials and demonstrate the lessons learned and that the gravity of the harm caused in the situation is understood, and provide assurances that this type of behavior will not be repeated.
That was all ordered just for sending one tweet linking to a documentary which talked about the Jewish role in the slave trade.

Ye's public statements were a wee bit more fiery, to say the least.

ADL CEO Jonathan Greenblatt told The Breakfast Club in December that he organized the cancelation of Ye because "if we don't get him" then the "myth" of Jewish power will spread.


[Left side header image of Ye by Pieter-Jannick Dijkstra via Flickr commons, CC BY 2.0, Composite, right side image of Greenblatt screenshot from congressional testimony.]

Follow InformationLiberation on Twitter, Facebook, Gab, Minds and Telegram.