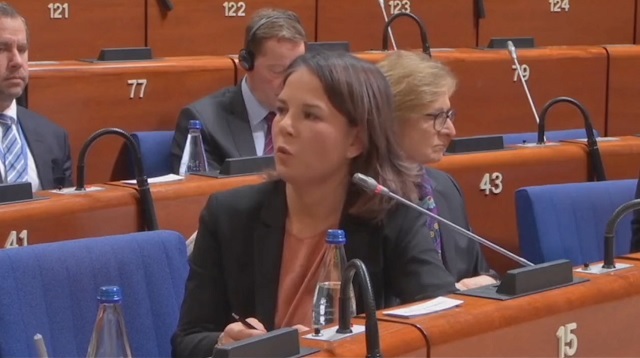 German Foreign Minister Annalena Baerbock declared war on Russia while speaking before the Parliamentary Assembly of the Council of Europe on Tuesday.


"And therefore I've said already in the last days -- yes, we have to do more to defend Ukraine," Baerbock said. "Yes, we have to do more also on tanks but the most important and the crucial part is that we do it together and that we do not do the blame game in Europe because we are fighting a war against Russia and not against each other."

Baerbock is the same politician who said last year that she would continue to support Ukraine "no matter what German voters think."


"If I give the promise to people in Ukraine -- 'We stand with you, as long as you need us' -- then I want to deliver. No matter what my German voters think, but I want to deliver to the people of Ukraine," Baerbock declared.

German Prime Minister Olaf Scholz also blew off the will of the German people by agreeing to send 14 Leopard 2 tanks to Ukraine and promising more will follow in the future.



Follow InformationLiberation on Twitter, Facebook, Gab, Minds and Telegram.