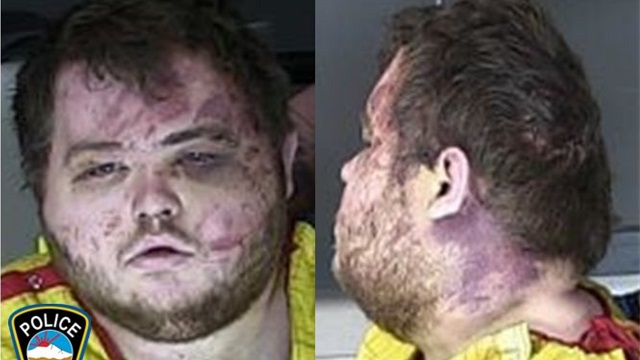 Colorado gay club shooting suspect Anderson Lee Aldrich identifies as "non-binary" and uses "they/them" pronouns, according to his lawyer.


From The Daily Mail, "Colorado gay club shooter is NON-BINARY and uses they/ them pronouns, lawyer says - as it's revealed estranged father is MMA fighter and PORN STAR named 'Dick Delaware'":

Colorado gay club shooter Anderson Lee Aldrich previously changed their name and now identifies as non-binary, using they/them pronouns.

Aldrich, 22, is suspected of murdering five people and injuring others at Club Q on Saturday - meanwhile, it was revealed that their dad is a porn star who goes by the name 'Dick Delaware.'

The suspect's original name is Nicholas Franklin Brink. They changed it to Anderson Lee Aldrich in 2016 in a petition signed by their mother, biological grandmother and step-grandfather.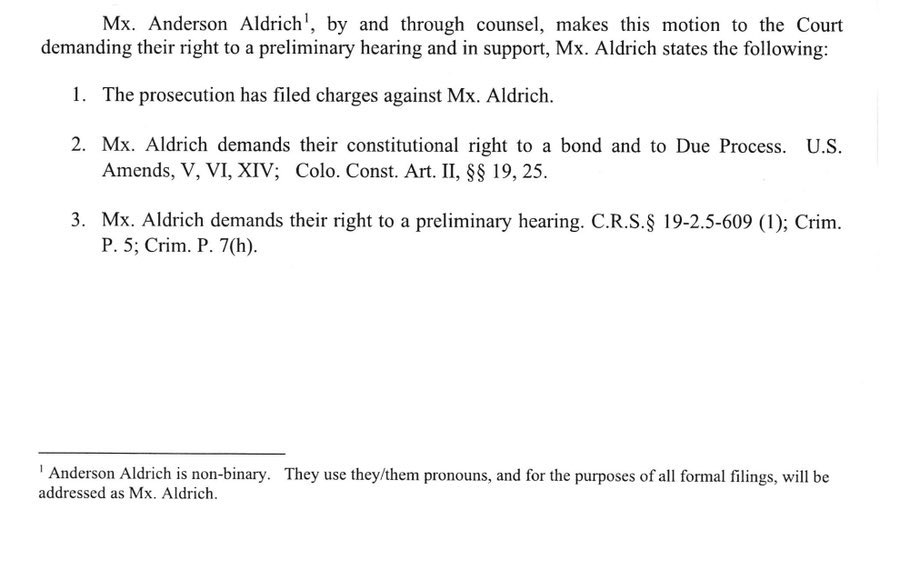 In a court filing, Aldrich's public defenders said that their client is non-binary and uses they/them pronouns, referring to the client as 'Mx. Anderson Aldrich.'

According to the petition, which was signed when Aldrich still identified as male, the name change was meant 'to protect himself and his future from any connections' to his birth father, Aaron Brink.

[...] Aaron Brink reportedly left Aldrich's mother when Anderson was a baby, before taking up MMA and porn, under the alias 'Dick Delaware.'
From CBS 8, "'I'm sorry I let my son down' | Father of accused Colorado club shooter speaks out"

Until six months ago, Aaron Brink thought his son died by suicide.

Brink said his ex-wife called him from Colorado in 2016 to tell him their son, Nicholas Brink, had changed his name to Anderson Aldrich, and had killed himself.

"I thought he was dead. I mourned his loss. I had gone through a meltdown and thought I had lost my son," Brink told CBS 8.

When Brink asked his ex-wife why their son had changed his name, she blamed it on the father's involvement in a reality TV show called Intervention, as well as his acting career in the adult film industry.

"His mother told me he changed his name because I was in Intervention and I had been a porno actor," said Brink.

For six years Brink believed his son was dead, until Aldrich unexpectedly called his father six months ago, and started arguing with him over the phone.

"He's pissed off. He's pissed off at me. He wants to poke at the old man," Brink recalled.

Then, two days ago, Brink got a call from his son's defense attorneys, telling him Aldrich was involved in a shooting at an LGBTQ nightclub in Colorado Springs.

Brink said he's a Mormon and his first reaction was to question why his son was at a gay bar.

"You know Mormons don't do gay. We don't do gay. There's no gays in the Mormon church. We don't do gay," Brink said.

But when the 48-year-old learned more details of the deadly shooting, he said he was shocked.

"There's no excuse for going and killing people. If you're killing people, there's something wrong. It's not the answer," he said.
WATCH:



Aldrich was a ticking time bomb who the FBI should have been monitoring 24/7 but Merrick Garland and Chris Wray are spending all their resources on hunting down MAGA grandmas who walked through the Capitol on Jan 6 and "domestic terrorist" parents who speak out at schoolboard meetings.


From KKTV, "Only KKTV 11 News obtains arrest papers likely tied to Club Q shooting suspect for alleged bomb threat":

COLORADO SPRINGS, Colo. (KKTV) - Only KKTV 11 News has obtained old arrest papers, and in them, a man reportedly told his family that he wanted to be the next mass killer.

Sources confirm to 11 News the man in the arrest papers is the same man as the accused Club Q gunman. Investigators will not confirm if the accused gunman is tied to the arrest of a man with the same exact name, and same exact birthday back in the summer of 2021. The old case is not showing up in public court records. The records appear to be sealed. There's no public record that Anderson Lee Aldrich was arrested in the summer of 2021.

In the three-page affidavit from 2021, investigators believe Aldrich told his family he planned to carry out a mass shooting. About 18 months ago, the arrest papers add deputies were called out to a home near Marksheffel and Fontaine.

Sources tell us Aldrich lived with his grandparents. Arrests papers state after his grandparents told him they were selling their home, Aldrich held them at gunpoint. The papers go on to say Aldrich said if they moved it would interfere with his plans to carry out a mass shooting and bombing.

Aldrich's grandma told investigators her grandson had bragged about, "wanting to go out in a blaze." The arrest papers add Aldrich showed his grandparents a full box of chemicals and said it was powerful enough to blow up a police department and a federal building.
The FBI must have not been interested in following the case after hearing Aldrich identified as a "they."

Follow InformationLiberation on Twitter, Facebook, Gab, Minds and Telegram.