U.S. Announces Another $4.5B for Ukraine, Days After Zelensky Caught Trying to Con NATO Into WW3
Chris Menahan
InformationLiberation
Nov. 22, 2022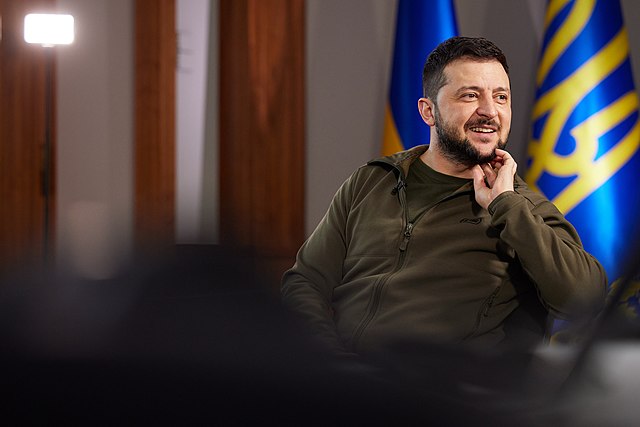 The Biden regime on Tuesday announced they're sending another $4.5 billion in US aid to Ukraine, despite President Zelensky attempting to con America and NATO into WW3 last week by bombing Poland and blaming Russia for the strike.

From US AID, "THE UNITED STATES CONTRIBUTES $4.5 BILLION TO SUPPORT THE GOVERNMENT OF UKRAINE":

The United States, through the U.S. Agency for International Development (USAID) and in coordination with the U.S. Department of the Treasury and the Department of State, is providing an additional $4.5 billion in direct budgetary support to the Government of Ukraine. The funding, which will help alleviate the acute budget deficit caused by Putinís brutal war of aggression, was made possible with generous bipartisan support from Congress. The Government of Ukraine will receive the funding in two tranches before the end of 2022.

[...] Once these additional funds are fully disbursed, the U.S. government will have provided $13 billion in direct budgetary support to the Government of Ukraine.
The Biden regime cut off pay and benefits to over 40,000 National Guard and 22,000 Reserve soldiers earlier this year because they refused to take Big Pharma's covid mRNA shots but they have endless billions of our money to send to Ukraine.

This decision also comes just days after disturbing video was released purportedly showing Ukrainian soldiers committed war crimes by executing Russian prisoners of war.


The Biden regime, which holds itself up as a paragon of human rights, chose to downplay the massacre in a briefing on Monday.

From RT, "US downplays execution of Russian POWs in Ukraine":

While acknowledging concern over videos that showed Ukrainian forces executing captured Russian soldiers, the US war crimes envoy has argued that allegations against Kiev's forces pale in comparison to Moscow's alleged atrocities.

"We are obviously tracking that quite closely," Beth Van Schaack, US ambassador-at-large for global criminal justice, told reporters in a telephone briefing on Monday. "It's really important to emphasize that the laws of war apply to all parties equally, both the aggressor state and the defender state, and this is in equal measure."

However, Van Schaack added, "when it comes to the war in Ukraine, that's really where the equivalency ends. When we're looking at the sheer scale of criminality exhibited by Russian forces, it's enormous compared to the allegations that we have seen against Ukrainian forces."
Better send them billions!

Follow InformationLiberation on Twitter, Facebook, Gab, Minds and Telegram.