ABC News: "A 'Red Mirage,' Or An Artificial GOP Vote Lead, Will Likely Reoccur Tuesday"
Chris Menahan
InformationLiberation
Nov. 07, 2022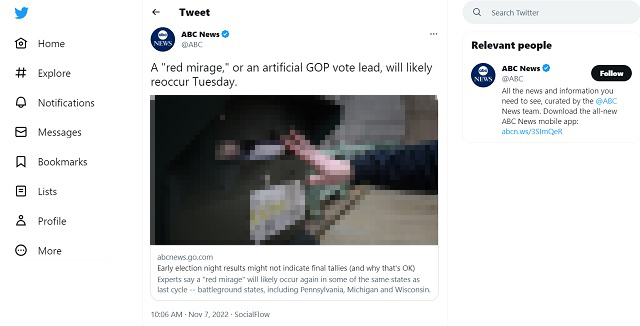 Voters must be prepared for the GOP's "artificial vote lead" to evaporate on Tuesday after "perceived 'dumps'" of mail-in and absentee ballots are counted "in the days -- or even weeks -- following Election day," ABC News reports.


From ABC News:

Early election night results might not indicate final tallies (and why that's OK)

A "red mirage," or an artificial GOP vote lead, will likely reoccur Tuesday.

By Isabella Murray
November 7, 2022, 5:15 AM

As early Election Day results come in on Tuesday, it will likely appear that a Republican candidates vying for any number of the federal or statewide races appear to be leading their Democratic opponents, even by large margins.

Their leads will dwindle, or crumble completely, after perceived "dumps" of votes are recorded by state election officials who count mail-in and absentee ballots in the days -- or even weeks -- following Election Day.

This phenomenon was popularized as the "red mirage" or the "blue shift" after the 2020 presidential election, when former President Donald Trump took a deceptive lead in several competitive states on Election Day due to delays in counting of Democrats' mail-in ballots -- their preferred method of voting due to the COVID-19 pandemic -- only to eventually dissipate when the entire reserve of votes was totaled.

The illusion was a principal component of Trump and his allies' false claims that the contest was fraudulent upon his ultimate loss to Joe Biden.
The red wave nearly every pollster is predicting is actually just a "mirage" ready to be corrected through "election fortification" and "perceived" late night ballot dumps.


It may take days, weeks, months, or years to count the votes -- just as our Founders intended!


Follow InformationLiberation on Twitter, Facebook, Gab, Minds and Telegram.