Kanye Shares Texts Allegedly Showing His Trainer Told Him to Apologize to Jewish People Or Be Forcibly Institutionalized
Chris Menahan
InformationLiberation
Nov. 03, 2022


Kanye "Ye" West on Thursday returned to Twitter and shared scandalous texts purportedly from his Jewish trainer Harley Pasternak telling him to "please apologize to my people" or else he'll have him "institutionalized again where they medicate the crap out of you, and you go back to Zombieland forever."

Ye said during his now-censored interview on Drink Champs last month that Pasternak first put out the narrative that he was crazy when he was hospitalized for exhaustion in 2016.

"They put the 'crazy' narrative out there, my Jewish trainer, Harley Pasternak, who's Lizzo's trainer, put it out when I went to the hospital, put it in the press," Ye said. "I got a bunch of friends that went to the hospital -- it didn't go to the press."

"I would do anything, anything, if you could please apologize to my people," Pasternak allegedly told Ye in a text that Ye shared on Thursday.

"I'm going to help you one of a couple ways," he continued. "First, you and I sit down and have an loving and open conversation, but you don't use cuss words, and everything that is discussed is based in fact, and not some crazy stuff that dumb friend of yours told you, or you saw in a tweet."

"Second option, I have you institutionalized again where they medicate the crap out of you and you go back to Zombieland forever. Play date with the kids just won't be the same."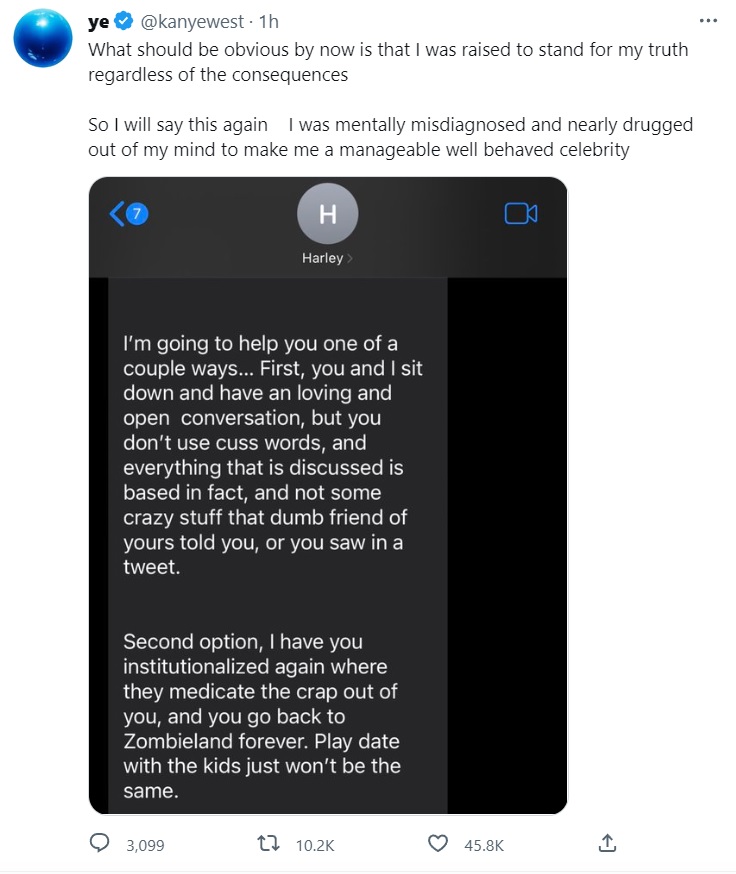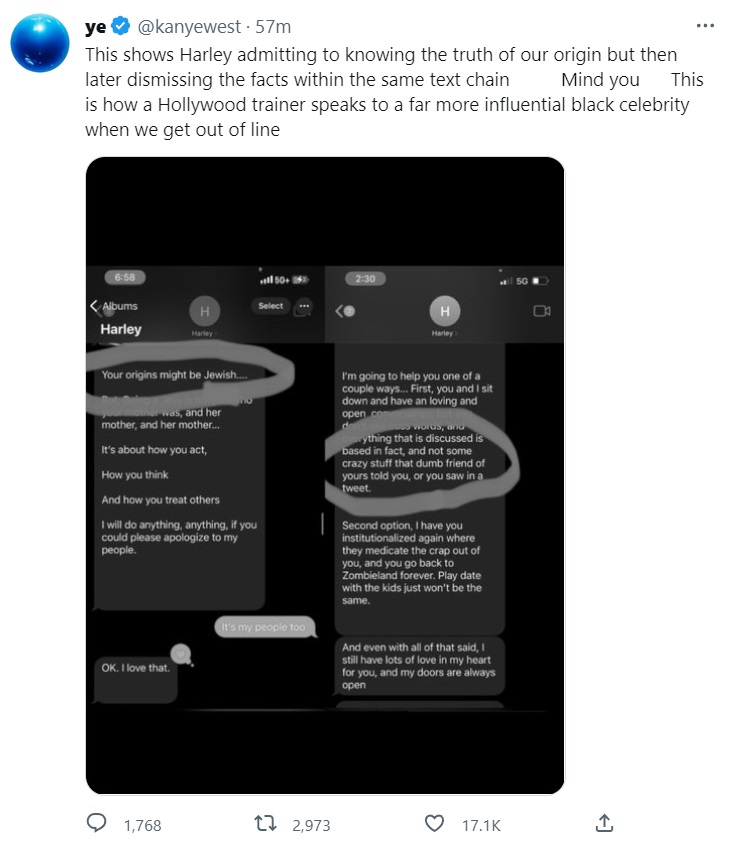 "What should be obvious by now is that I was raised to stand for my truth regardless of the consequences," Ye said. "So I will say this again[.] I was mentally misdiagnosed and nearly drugged out of my mind to make me a manageable well behaved celebrity."

"I was told that if I expose the truth of the bad business practices everything is gonna be taken from me," he said. "Including my black children."

"And everyone has bore [witness] to the public Emmett Tilling of Ye. But GOD has put something on my heart not to backdown."

"This shows Harley admitting to knowing the truth of our origin but then later dismissing the facts within the same text chain[.] Mind you[,] This is how a Hollywood trainer speaks to a far more influential black celebrity when we get out of line."

Harley Pasternak has yet to respond to Ye's allegations.

Ye said on Sunday that his custody lawyer Bob Cohen told him that he will lose custody of his children if he keeps up his "anti-Semitic rhetoric."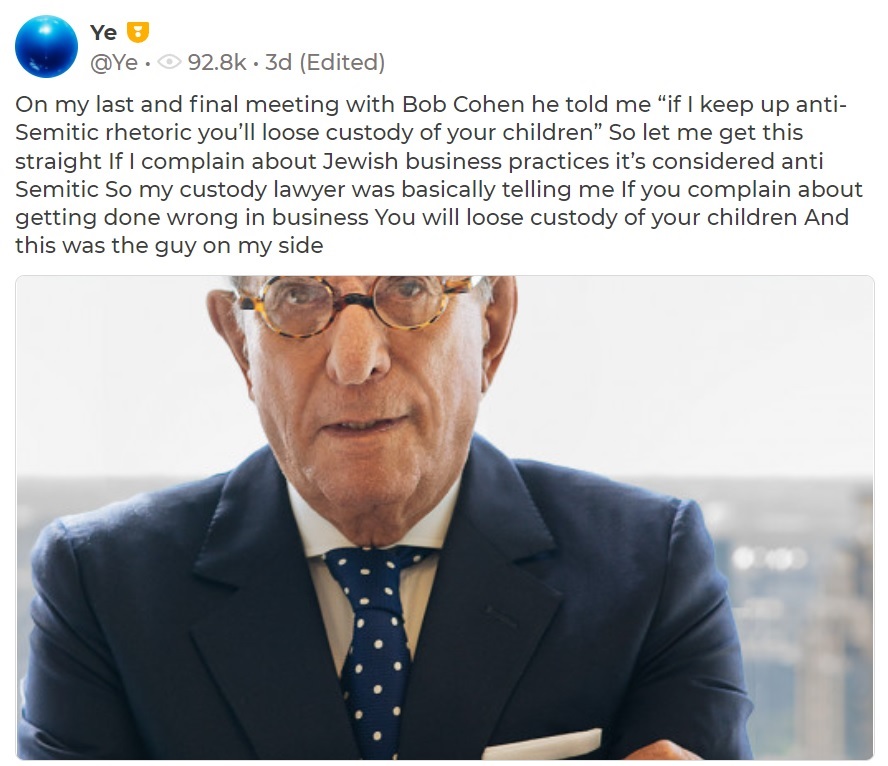 Follow InformationLiberation on Twitter, Facebook, Gab, Minds and Telegram.