Noose Hoaxer Bubba Wallace 'Intentionally' Rams Driver For Cutting Him Off, Assaults Him
Chris Menahan
InformationLiberation
Oct. 20, 2022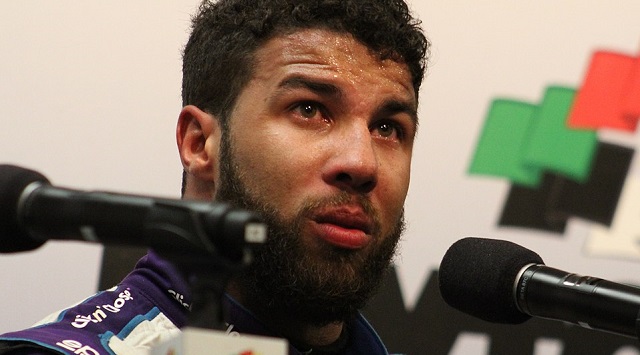 NASCAR driver Bubba Wallace, the hate hoaxer who claimed someone put a "noose" in his garage to intimidate him because he's black, "intentionally" rammed into another driver on Sunday while going around 160 mph, then got out of his car to assault him.



The "fight" NASCAR referenced consisted of Wallace going over to driver Kyle Larson and assaulting him repeatedly as Larson tried to deescalate and walk away.

The disgraced race hustler was only suspended for one race thanks to his privilege.



From CBS NASCAR, "NASCAR suspends Bubba Wallace for one race following on-track incident with Kyle Larson":

NASCAR announced a suspension of driver Bubba Wallace for one race following his actions at the South Point 400 in Las Vegas on Sunday. Wallace wrecked Kyle Larson before shoving him in the infield after Larson pushed him into the wall on lap 94.

[...] In its official announcement, NASCAR said Wallace violated Rule 4.4.C, which prohibits "intentionally wrecking or spinning another vehicle, whether or not that vehicle is removed from Competition as a result."

Speaking on SiriusXM, NASCAR chief operating officer Steve O'Donnell explained that they felt Wallace's actions crossed the line, as it was a "dangerous act" that put other competitors at risk.

"We believed that it was a heat of the moment action that took place," O'Donnell said. "I think you saw through Bubba's statement if he had to do that all over again, I think maybe it would be a different circumstance. ... We just felt it crossed the line and we really had to react, because it's an action that we don't want to see going forward."
As O'Donnell noted, they only suspended Wallace for one race because he said he was weawwy sowwy:

"I want to apologize for my actions on Sunday following the on-track incident with Kyle Larson and the No. 5 car. My behavior does not align with the core values that are shared by 23XI Racing and our partners, who have played a crucial role in my incredible journey to the top of this great sport. I want to apologize to NASCAR and the fans, along with Christopher Bell, Joe Gibbs Racing, and Toyota for putting them in a situation in the Playoffs that they do not deserve.

"I compete with immense passion, and with passion at times comes frustration. Upon reflecting, I should have represented our partners and core team values better than I did by letting my frustrations follow me outside of the car. You live and learn, and I intend to learn from this."
He should be telling that crap to a judge.

[Header image by Zach Catanzareti via Flickr, CC BY-SA 2.0]

Follow InformationLiberation on Twitter, Facebook, Gab, Minds and Telegram.