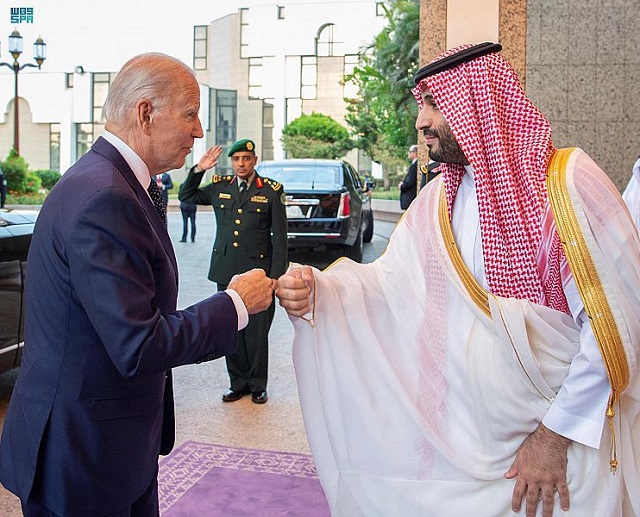 The Saudi Kingdom on Wednesday issued a "bombshell" statement bolstering reports that the Biden regime tried to make a secret deal with OPEC+ to buy 200 million barrels of oil at $80 a barrel in exchange for not cutting production until after the midterm elections.

The shady deal would have effectively amounted to a $16 billion bribe with US taxpayer money to keep oil prices down for one month to help Democrats win in November.


From The Daily Mail, "Saudis release bombshell statement saying Biden DID try and delay oil production cut until AFTER the midterms in desperate bid to avoid gas prices spiking - as White House hits back and claims Kingdom knew OPEC deal would benefit Putin":

A bombshell statement from Saudi Arabia states the Biden administration reached out and pleaded with them to delay the OPEC deal to cut oil production until after the midterms.

Saudi Foreign Minister Prince Faisal bin Farhan Al Saud said Thursday morning that US officials 'suggested' postponing the decision to reduce output by two million barrels a day by a month until after November 8, when millions of Americans will cast their ballots.

The Kingdom also brushed off suggestions it sided with Russia by insisting it took a 'principled position' on the Ukraine war and said the OPEC decision was entirely based on economics, not politics.

The White House responded furiously hours after the statement, claiming Saudi Arabia is 'trying to spin or reflect' and reiterated that Biden will 're-evaluate' the relationship with the longstanding allies.
I've embedded their full statement below.

This is the key paragraph: "The Government of the Kingdom of Saudi Arabia would also like to clarify that based on its belief in the importance of dialogue and exchange of views with its allies and partners outside the OPEC + group regarding the situation in the oil markets, the Government of the Kingdom clarified through its continuous consultation with the US Administration that all economic analyses indicate that postponing the OPEC+ decision for a month, according to what has been suggested, would have had negative economic consequences." [Emphasis added]





The White House and Democrats are apoplectic over the Saudis refusal to take Biden's bribe money and are calling for the US to end arms sales to Saudi Arabia and end support for their brutal war on Yemen.

Democratic Sen. Richard Blumenthal and Rep. Ro Khanna have put forward a joint bill for the US to "ban all US arms sales to Saudi for 1 year," Defense One's Bryant Harris reports.


Of course, the hostile posture can only last for one year because the Saudis must be rewarded for their friendly relations with Israel.



Blumenthal was fine with arming the Saudis to genocide the Yemeni last year but now he's against it.


Biden issued similar threats himself.


As Jack Posobiec noted, the similarities with Trump's supposed quid pro quo with Ukraine are stunning.



From The Epoch Times, "White House Confirms Biden Admin Asked Saudis to Postpone Oil Cuts Until 1 Month After Midterms":

The Biden administration confirmed on Oct. 13 that it asked Saudi Arabia to delay an OPEC+ vote to cut oil production until its next meeting, which comes after the 2022 midterm elections.

"We presented Saudi Arabia with analysis to show that there was no market basis to cut production targets, and that they could easily wait for the next OPEC meeting to see how things developed," National Security Council spokesman John Kirby said in a statement.

He didn't directly say that the White House had sought to have Saudi Arabia, a key member of OPEC, delay the vote until after the midterms. But according to OPEC's website, the organization's next meeting is scheduled for Dec. 4, about a month after the midterm elections in which analysts favor Republicans to take back at least the House.

Other OPEC countries also allegedly "communicated to us privately that they also disagreed with the Saudi decision, but felt coerced to support Saudi's direction" to slash oil production during last week's meeting, according to Kirby. He didn't provide any examples but said the United States would reevaluate its relationship with the Saudi government.

"As the President has said, we are reevaluating our relationship with Saudi Arabia in light of these actions, and will continue to look for signs about where they stand in combatting Russian aggression," he said.
This should be more than enough for Biden to be impeached!

[Header image by Bandar Aljaloud/Saudi Royal Palace, CC BY 4.0]

Follow InformationLiberation on Twitter, Facebook, Gab, Minds and Telegram.