FBI Whistleblower Says Agency Downgraded Child Sex Abuse Material Investigations to Focus On 'Domestic Extremists'
Chris Menahan
InformationLiberation
Sep. 20, 2022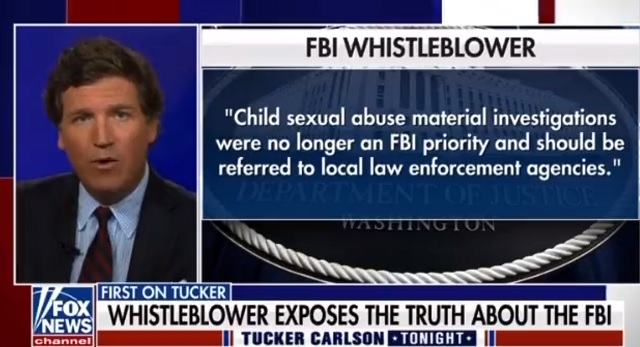 The FBI has downgraded child sex abuse material investigations to focus on prosecuting and inflating the threat of "domestic violent extremists," according to an FBI whistleblower.



From Breitbart, "Whistleblower Alleges FBI Schemed to Distort January 6 Cases into Nationwide 'Domestic Violent Extremism' Epidemic":

A whistleblower has accused the FBI's Washington Field Office of using cases related to the January 6 U.S. Capitol riot to "overstate" the threat of "domestic violent extremism" in America, according to Judiciary Committee ranking member Rep. Jim Jordan (R-OH).

The whistleblower alleged the FBI office did not follow standard investigative practices for the January 6 cases when it moved the cases to various local Field Offices around the country based on where the case subjects were from, Jordan revealed in a letter addressed to FBI Director Christopher Wray on Tuesday.

January 6 cases "should all be officially led by the WFO [Washington Field Office] and categorized as WFO cases," according to the letter, but instead, a "task force" dispatched instructions to open January 6 investigations to local field offices nationwide.

Those local offices received the cases, making it look as if they were conducting the investigations on the cases, when, in reality, the Washington Field Office continued to conduct the bulk of the work, according to the letter.

The whistleblower told Jordan:

The manipulative casefile practice creates false and misleading crime statistics. Instead of hundreds of investigations stemming from a single, black swan incident at the Capitol, FBI and DOJ officials point to significant increases in domestic violent extremism and terrorism around the United States.

Jordan noted in the letter, "Such an artificial case categorization scheme allows FBI leadership to misleadingly point to 'significant' increases in DVE threats nationwide," which supports a narrative being perpetuated by the Biden administration.

The whistleblower also alleged that January 6 cases were inappropriately taking priority over other cases, citing an instance of being "told that child sexual abuse material investigations were no longer an FBI priority and should be referred to local law enforcement agencies," according to the letter.
Follow InformationLiberation on Twitter, Facebook, Gab, Minds and Telegram.