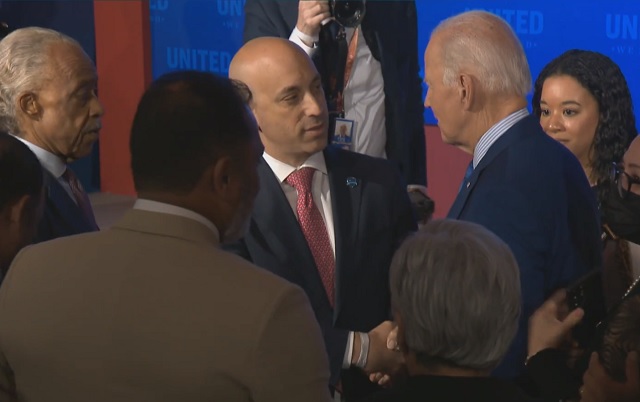 Big Tech unveiled a host of new AI-based censorship and narrative-control schemes as part of Joe Biden's White House summit on the "evil" and "sinful" nature of his political opposition (all of whom are white supremacists and domestic terrorists).




From RT, "Big Tech steps up censorship after Biden speech":

YouTube, Twitch, Microsoft, as well as Facebook and Instagram's parent firm Meta announced on Thursday that they would monitor and remove allegedly hateful and extremist content after President Joe Biden made a speech portraying white supremacy as rampant in the US.

According to a White House website, YouTube will expand its removal of content "glorifying violent acts" and will launch a campaign to help young users identify the "manipulation tactics used to spread misinformation." Twitch will make it easier for users to report "hate and harassment," Microsoft will use artificial intelligence to "detect credible threats of violence" from those who use its products, and Meta will partner with the Middlebury Institute of International Studies' Center on Terrorism, Extremism, and Counterterrorism to "analyze trends in violent extremism and… help communities combat it."

These firms already have extensive policies on allegedly hateful content, but liberals argue that such content still proliferates, and conservatives claim that these policies are used to discriminate against them for political reasons.

The latest censorship push was announced as Biden held a summit at the White House entitled 'United We Stand.' Alongside speeches from activists, law enforcement and business leaders, Biden used the event to call for increased censorship of social media, gun control, and a broad crackdown on the "venom and violence" of "white supremacists."

Biden has long insisted that such extremists are "the most lethal terrorist threat in the homeland," and the president referenced several high-profile incidents to reinforce his argument, like the vehicle attack in Charlottesville, Virginia, in 2017 and racially motivated shootings by white gunmen in Texas in 2019 and New York this year – the latter of which was livestreamed by the killer on Twitch.

However, FBI crime statistics show that white Americans do not disproportionately commit hate crimes compared to other races, and are the least likely demographic group to commit homicide against other races. The above statistics are raw totals, meaning the disparity in crime rates between whites and other races is even starker considering whites make up 58% of the US population, with Hispanics accounting for 18%, African-Americans 12.5% and other races 11.5%.
Here is the Biden regime's list of "commitments" they got out of Big Tech to expand censorship and narrative control (via UnitedWeStand.gov):

Americans know how the internet can fuel hate, misogyny, and abuse with spillover effects that threaten the safety of our communities offline. Today's announcements from the tech sector take a step towards recognizing the important role companies play in designing their products and platforms to curb the spread of hate-fueled violence both online and off.

- YouTube is expanding its policies to combat violent extremism by removing content glorifying violent acts for the purpose of inspiring others to commit harm, fundraise, or recruit, even if the creators of such content are not related to a designated terrorist group. YouTube will also launch an educational media literacy campaign across its platform to assist younger users in particular in identifying different manipulation tactics used to spread misinformation – from using emotional language to cherry picking information. This campaign will first launch in the U.S. before expanding to other countries over time. Finally, YouTube will support the McCain Institute and EdVenture Partners' Invent2Prevent program with ongoing funding and training. The program challenges college students to develop their own dynamic products, tools, or initiatives to prevent targeted violence and terrorism.]

- Twitch will accelerate its ongoing commitment to deterring hate in the livestreaming space this year by releasing a new tool that empowers its streamers and their communities to help counter hate and harassment and further individualize the safety experience of their channels. Twitch will also launch new community education initiatives on topics including identifying harmful misinformation and deterring hateful violence.

- Microsoft is expanding its application of violence detection and prevention artificial intelligence (AI) and Machine Learning (ML) tools and using gaming to build empathy in young people. The company has developed AI/ML tools with appropriate privacy protections that can help detect credible threats of violence or to public safety, and is making a basic, more affordable version of these tools accessible to schools and smaller organizations to assist in violence prevention. Microsoft is also developing a new experience on Minecraft: Education Edition to help students, families and educators learn ways to build a better and safer online and offline world through respect, empathy, trust and safety.

- Meta is forging a new research partnership with the Middlebury Institute of International Studies' Center on Terrorism, Extremism, and Counterterrorism to analyze trends in violent extremism and tools that help communities combat it. Meta will also partner with Search For Common Ground to provide trainings, workshops, and skill-building to equip community-based partners working locally to counter hate-fueled violence with tools to help amplify their work.
In short, they're going to censor users and conduct narrative control through artificial intelligence -- exactly as Jonathan Greenblatt over at the Anti-Defamation League demanded years ago (he was in the front row and was seen shaking Biden's hand after his speech).



Earlier this year, Facebook also announced the creation of an AI-system designed to censor "hate speech" and "harmful content" such as "posts discouraging COVID-19 vaccinations."

Absolutely nothing will be done to address the crime epidemic in our major cites (that would be racist) but plenty more will be done to censor law-abiding Americans and label the regime's political opposition "domestic terrorists."

All this is happening at the same time the Biden regime is sending billions in high-tech weaponry to the neo-nazi Azov Battalion to commit war crimes in Ukraine and Big Tech sites like Facebook are removing Azov from their "Dangerous Organizations" list so they can be showered with praise.

Earlier this year, the ADL also defended Ukraine's neo-Nazi groups on the grounds that they "don't attack Jews or Jewish institutions."


Follow InformationLiberation on Twitter, Facebook, Gab, Minds and Telegram.