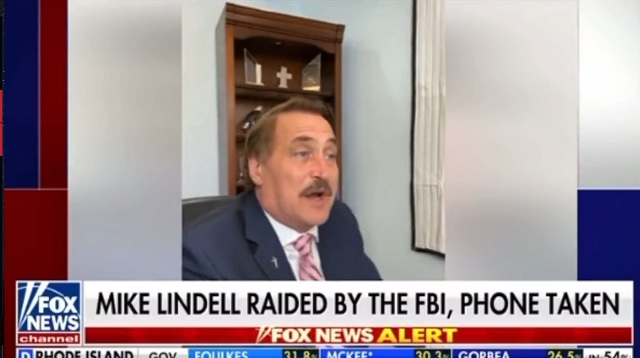 The FBI went after humble pillow salesman Mike Lindell on Tuesday as part of their ongoing witch hunt targeting all of former President Donald Trump's allies.



"Cars pulled up in front of us, to the side of us, and behind us and I said those are either bad guys or the FBI," Lindell said. "Well, it turns out they were the FBI."

"The FBI came after me and took my phone," Lindell said. "They surrounded me at a Hardee's and took my phone that I run all my business, everything with. What they have done is weaponize the FBI, it's disgusting. I don't have a computer, that phone, everything was on everybody."

From The Post Millennial:

According to Lindell, another car came up shortly after and pinned them in on the right side, with another customer blocking their rear end.

At Lindell's request, the people in the cars in front and to his right showed him their badges, and explained why they were there.

Lindell said that they began asking him questions about Colorado and Dominion voting machines, and eventually told him that they had "some bad news."

The officers told him that they had a warrant for his cell phone, and would be confiscating it, to which Lindell replied that he needed it to "run five companies" as he doesn't have a computer.

Lindell then spoke with a lawyer, who advised him to hand over the phone, at which point he said he did.

After showing a copy of the warrant, Lindell explained that he was not even given a chance to do a backup of his phone, that it was simply taken away.

He called the actions of the FBI "disgusting" and "garbage."
Keep in mind as the FBI and DOJ round up all of Trump's allies that the GOP establishment is doing absolutely nothing to stop it and likely actually support throwing Trump in prison.

Follow InformationLiberation on Twitter, Facebook, Gab, Minds and Telegram.