Alexander Dugin's Daughter Assassinated in Car Bombing in Moscow
Chris Menahan
InformationLiberation
Aug. 21, 2022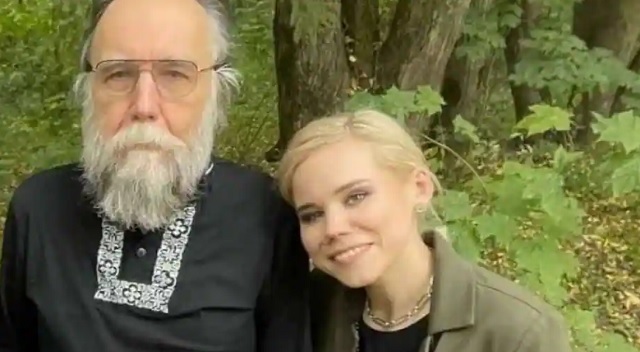 Darya Dugina, the daughter of Russian philosopher and Western media boogeyman Alexander Dugin, was assassinated in a car bombing on Saturday in Moscow in a suspected Ukrainian hit job.





From BBC, "Darya Dugina: Daughter of Putin ally killed in Moscow blast":

The daughter of a close ally of Russia's President Vladimir Putin has been killed in a suspected car bomb.

Darya Dugina died after an explosion on a road outside Moscow, Russia's investigative committee said.

It is thought her father, the Russian philosopher Alexander Dugin who is known as "Putin's brain," may have been the intended target of the attack.

Mr Dugin is a prominent ultra-nationalist ideologue who is believed to be close to the Russian president.

Alexander Dugin and his daughter had been at a festival at an estate near Moscow, where the philosopher gave a lecture.

The "Tradition" festival describes itself as a family event for art lovers which takes place at the Zakharovo estate where Russian poet Alexander Pushkin once stayed.

The pair were due to travel back from the event on Saturday evening in the same car before Mr Dugin reportedly made a decision at the last minute to travel separately from his daughter.
RT downplayed Dugin's significance in their report on the hit:

Western media has painted Dugin as a driving force behind President Vladimir Putin's foreign policy over the past decade. In recent months, CBS dubbed him "the far-right theorist behind Putin's plan," while the Washington Post called him a "far-right mystical writer who helped shape Putin's view of Russia."

In Russia, the supposed shadowy puppet master is largely considered to be a marginal figure. While he has served as an adviser to several politicians, Dugin never enjoyed official endorsement from the Kremlin. In 2014, he was fired from his position at Moscow State University, after critics interpreted his call to "kill, kill, kill" those behind massacres in Ukraine, such as the Odessa tragedy, as a call for a genocide against Ukrainian people.

The US think tank RAND Corporation wrote in 2017 that despite Western media reports of Dugin's alleged "ties and connections" to the Russian leadership, he is "perhaps best thought of as an extremist provocateur with some limited and peripheral impact than as an influential analyst with a direct impact on policy."
Regardless of his significance, Ukraine potentially carrying out a targeted assassination inside of Moscow while at the same time launching drone strikes in Crimea is clearly a significant escalation of the war.

The Biden regime on Friday signed off on sending the Zelensky regime another $775 million in advanced weaponry, including additional ammunition for High Mobility Artillery Rocket Systems (HIMARS) to strike into Russia.

Follow InformationLiberation on Twitter, Facebook, Gab, Minds and Telegram.