Liz Cheney Gets Trounced in Wyoming Election, Trump Celebrates 'Complete Rebuke' Of J6 Committee 'Hacks And Thugs'
Chris Menahan
InformationLiberation
Aug. 17, 2022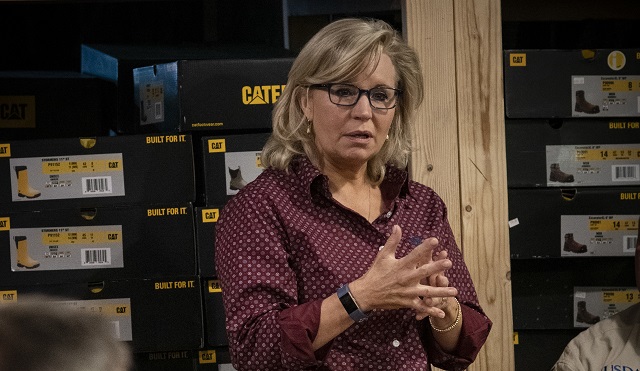 Liz Cheney lost her reelection bid in a landslide on Tuesday despite raising millions of dollars from wealthy and powerful donors.

With an estimated 99% of the vote in, Cheney lost the GOP House primary with 28.9% of the vote versus challenger Harriet Hageman, who got 66.3% of the vote.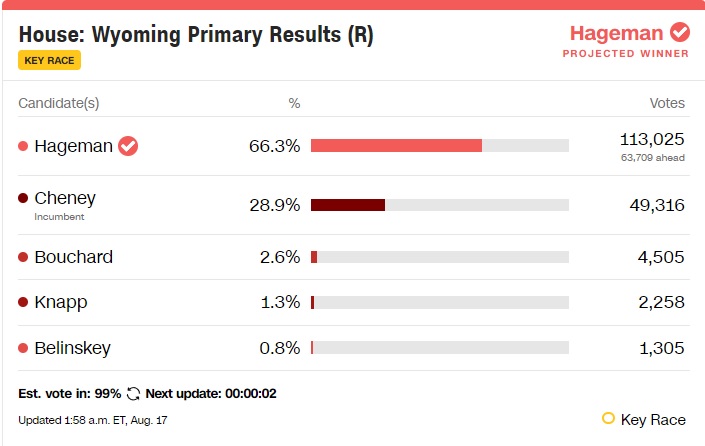 "Congratulations to Harriet Hageman on her great and very decisive WIN in Wyoming," former president Donald Trump said on Truth Social. "This is a wonderful result for America, and a complete rebuke of the Unselect Committee of political Hacks and Thugs."

"Liz Cheney should be ashamed of herself, the way she acted, and her spiteful, sanctimonious words and actions towards others," Trump continued. "Now she can finally disappear into the depths of political oblivion where, I am sure, she will be much happier than she is right now. Thank you WYOMING!"

The media and GOP shills have been pushing for Cheney to launch a presidential run.

Business Insider reports:

[I]f Cheney loses, she is widely expected to stay in the spotlight and continue her fight to rid the Republican Party of Trump.

The three-term lawmaker has repeatedly expressed her commitment to calling out Trump's 2020 election lies, pinning responsibility on him for the Capitol attack, and casting him as a "threat" to the country. In her latest campaign ad released Thursday, Cheney pledged to "work every day to ensure that our exceptional nation long endures."

"No matter how long we must fight, this is a battle we will win," she added.

And besides remaining a fixture of national politics, Cheney's allies believe she has a bright career ahead even if she's ousted from Congress. Some are floating possibilities like a presidential candidacy or a top post in a future Republican administration.

"I hope she wins. I've hosted fundraisers for her. But I recognize that in the time of Trump that may not be possible," Sen. Mitt Romney of Utah, a notable critic of the former president, told Insider. "We'll see what happens, but I don't think she's gone by any means. I wouldn't be surprised to see her run for president."
Tucker Carlson on Tuesday night questioned how Cheney went from being worth $7 million in 2017 when she first took office to $44 million in 2022.

"How did Liz Cheney make more than $36 million in six years of public service?" Carlson asked. "That's more than $6 million a year."


We need a special committee to investigate her, her father and crooks like Nancy Pelosi's shady political dealings.

Follow InformationLiberation on Twitter, Facebook, Gab, Minds and Telegram.