CBS News Censors Own Film Exposing How Only 30% of U.S. Weapons Aid for Ukraine Makes it to Front Lines
Chris Menahan
InformationLiberation
Aug. 07, 2022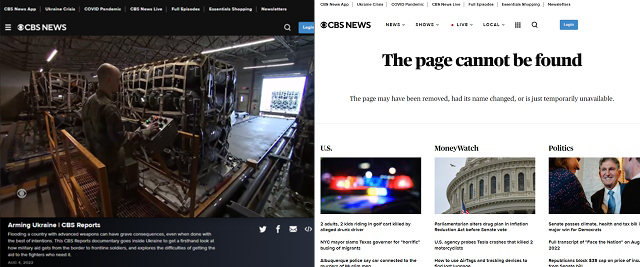 CBS News on Sunday night pulled their own bombshell documentary "Arming Ukraine" exposing how only 30% at most of the tens of billions of dollars worth of US weapons aid sent to Ukraine is making it to the front lines.

"The new CBS Reports documentary, 'Arming Ukraine,' explores why much of the billions of dollars of military aid that the U.S. is sending to Ukraine doesn't make it to the front lines: 'Like 30% of it reaches its final destination,'" CBS said Friday on Twitter.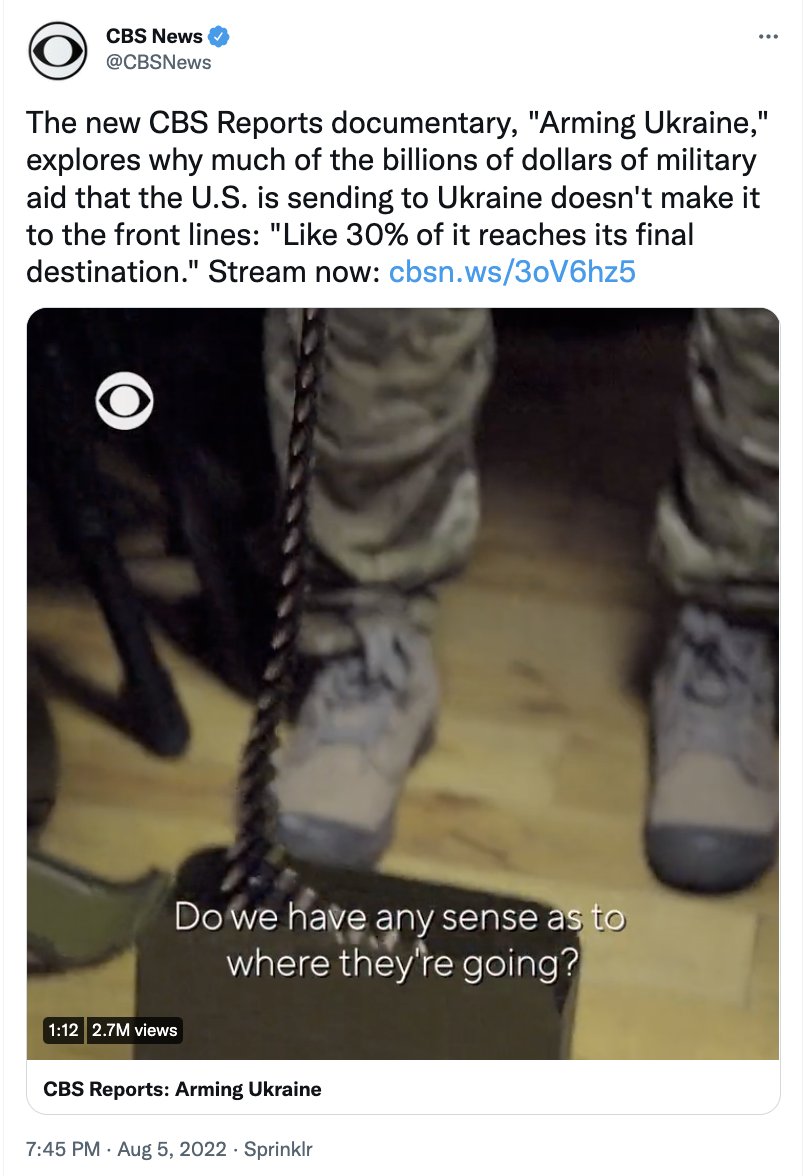 The tweet included this preview from the film:



The full film, which was produced by CBS's Alex Pena and is now deleted from their website, was remarkable in how despite it being totally biased against Russia they nonetheless highlighted how our endless billions in aid was being dumped into a black hole.

"Flooding a country with advanced weapons can have grave consequences, even when done with the best of intentions," CBS's description read. "This CBS Reports documentary goes inside Ukraine to get a firsthand look at how military aid gets from the border to frontline soldiers, and explores the difficulties of getting the aid to the fighters who need it."

A mirror of the full documentary was uploaded on BitChute:



After CBS's report went viral, orders appear to have come down from the top to have the film censored.

"We removed a tweet promoting our recent doc, "Arming Ukraine," which quoted the founder of the nonprofit Blue-Yellow, Jonas Ohman's assessment in late April that only around 30% of aid was reaching the front lines in Ukraine," CBS News said on Sunday night.


"Since that time, Ohman says delivery has improved. Additionally, the U.S. military has confirmed that defense attaché Brigadier General Garrick M. Harmon arrived in Kyiv in August for arms control and monitoring."

"We are updating our documentary to reflect this new information and air at a later date."


If that's even true, and I don't believe it is, that could easily be fixed with a simple line or two of added text.

It's far more likely they censored the film because they broke the unspoken rule that Ukraine must be supported at all costs against Russia because the future of the Liberal World Order is at stake.

The Biden regime over the weekend announced they'll be sending yet another $1 billion in weapons aid to Ukraine on top of the $60 or so billion we've already sent.

As I reported last week, Ukrainian President Volodymyr Zelensky said Americans must do more to sacrifice for Ukraine and our domestic concerns about inflation and other issues are "nothing" compared to the needs of Ukrainians fighting for their lives. Zelensky insisted America's help will not be "sufficient" until "the war is over, and until we win."

Follow InformationLiberation on Twitter, Facebook, Gab, Minds and Telegram.