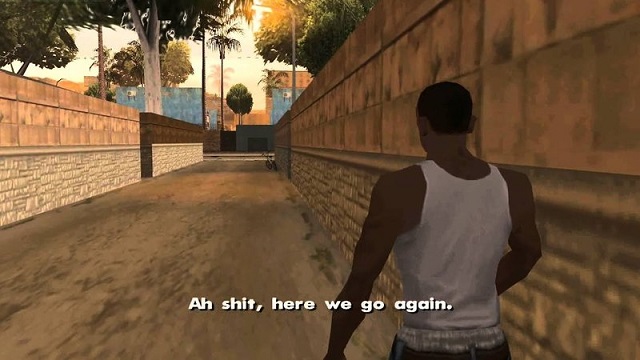 Grand Theft Auto VI is going to be a woke disaster focused on challenging gender stereotypes and shielding "marginalized" groups from hearing politically incorrect jokes, at least if this report from Bloomberg News is to be believed.

From Bloomberg, "Rockstar Games Cleaned Up Its Frat-Boy Culture — and Grand Theft Auto, Too":

In the summer of 2020, after a police officer killed George Floyd, Rockstar Games quietly shelved a mode of play it had planned to release for its Grand Theft Auto Online game.

Called Cops 'n' Crooks, the mode was a twist on the children's game where players organize into teams of good guys and bad guys, but seemed especially tone-deaf during the global reckoning over police violence. Senior executives at the company, concerned about how the narrative might be interpreted during a time of heightened skepticism and mistrust of American police, put it aside. They still haven't made plans to bring it back, according to people familiar with development.

This was one of several politically sensitive actions Rockstar, a division of Take-Two Interactive Software Inc., has taken in recent years. The company removed transphobic jokes from the most recent console release of Grand Theft Auto V and significantly narrowed its gender pay gap. Rockstar's next game, Grand Theft Auto VI, will include a playable female protagonist for the first time, according to people familiar with the game. The woman, who is Latina, will be one of a pair of leading characters in a story influenced by the bank robbers Bonnie and Clyde, the people said. Developers are also being cautious not to "punch down" by making jokes about marginalized groups, the people said, in contrast to previous games.
You know you're "marginalized" when you're protected from people making jokes about you.

Moves like these once seemed unthinkable for a company whose best-selling franchise is a satirical depiction of America that involves playing gangsters who kill civilians and where women are mostly depicted as sex objects. Grand Theft Auto V was a nihilistic parody that threw insults at everything, from right-wing radio hosts to liberal politicians. Inside the company, the tone wasn't much different. Rockstar employees described a workplace culture full of drinking, brawling and excursions to strip clubs. The company was an early symbol of an industry-wide problem of long hours at the office, known as crunch, in which staff were expected to be at their desks many nights and weekends in order to keep a game on schedule.

That strategy was financially successful and turned Grand Theft Auto V into the second-best selling game of all time, with 165 million copies sold. It also led to burnout, attrition and a public controversy in 2018 that prompted hundreds of Rockstar employees to speak out about the difficult work environment.

Since that outcry, Rockstar has attempted to reinvent itself as a more progressive and compassionate workplace, according to interviews with more than 20 people who work there or left recently, all of whom requested anonymity because they weren't authorized to speak publicly. One employee described it as "a boys' club transformed into a real company." A spokesman for Rockstar declined to comment.
Why replicate success when you can replicate failure?
The transformation of Rockstar includes changes to scheduling, converting contractors to full-time employees and the ouster of several managers that employees saw as abusive or difficult to work with. When the pandemic started, workers received care packages, cloth masks and surprise bonuses. During the protests over the death of George Floyd, a Black man who was murdered by police officers, the company said it would match donations to Black Lives Matter charities.
This is Battlefield 5 all over again. Battlefield 2042, which was supposed to rescue the franchise, turned out to be even worse.

Axios reported on Thursday that China gaming giant Tencent quietly hired former Assassin's Creed creative director Ashraf Ismail last year -- after he got canceled during the #MeToo hysteria.


All the talent our woke companies reject are going to be snagged up by foreign countries.

What appears to be the hottest game going right now with the most promise, Escape from Tarkov, is made by based Russians.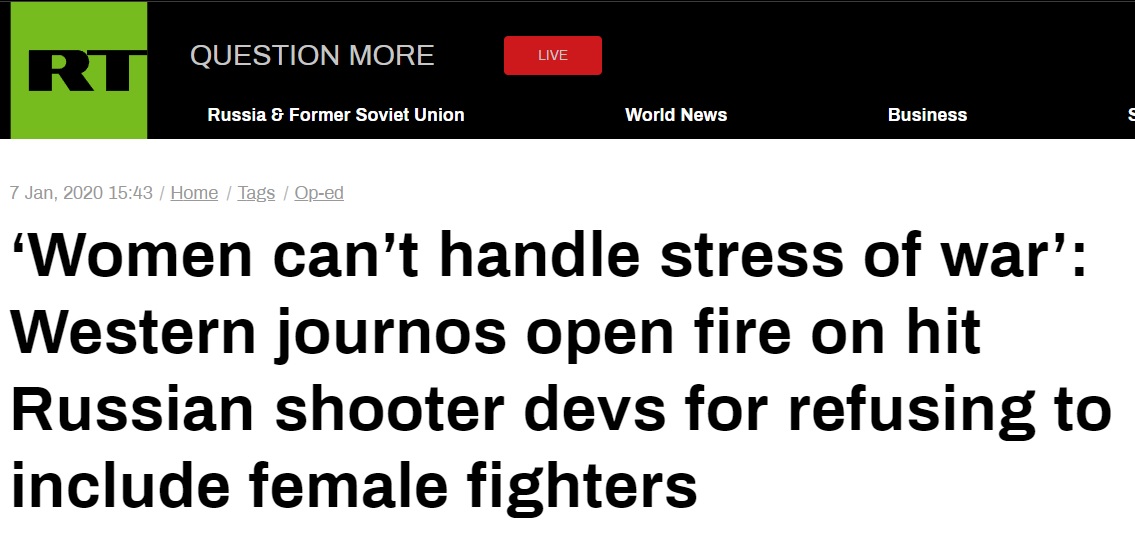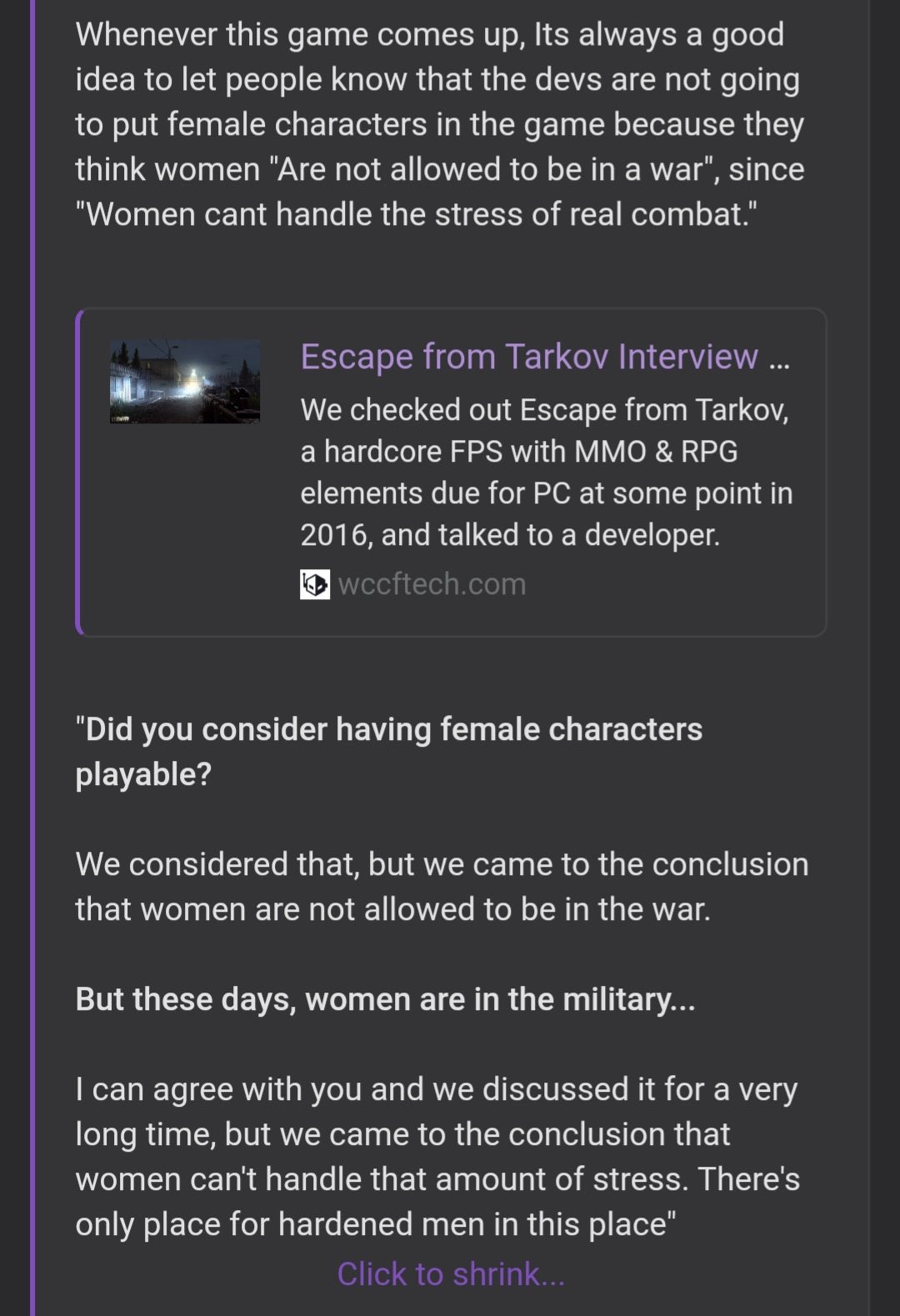 Tarkov's devs have refused to weigh in on the Ukraine-Russia conflict, despite the controlled media coming down on them. They've chosen to focus on developing their game rather than virtue-signaling.


What a concept!

Follow InformationLiberation on Twitter, Facebook, Gab, Minds and Telegram.