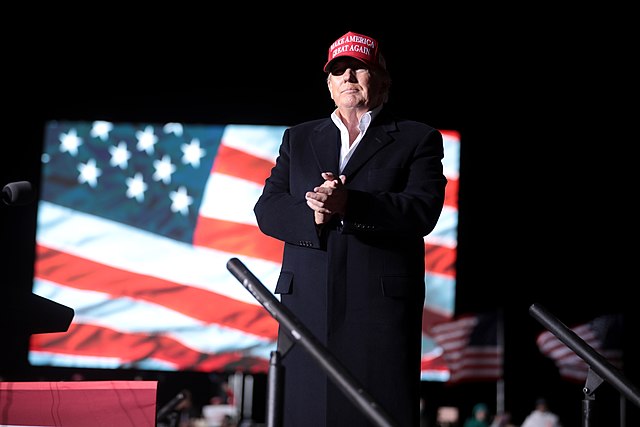 Donald Trump is planning to purge the deep state and right the wrongs he made during his first term in office, if a new report from Axios is to be believed.

Trump is allegedly going to kick Jared and Ivanka to the curb and surround himself with loyalists rather than traitors like John Bolton.

From Axios, "A radical plan for Trump's second term":

Former President Trump's top allies are preparing to radically reshape the federal government if he is re-elected, purging potentially thousands of civil servants and filling career posts with loyalists to him and his "America First" ideology, people involved in the discussions tell Axios.

The impact could go well beyond typical conservative targets such as the Environmental Protection Agency and the Internal Revenue Service. Trump allies are working on plans that would potentially strip layers at the Justice Department — including the FBI, and reaching into national security, intelligence, the State Department and the Pentagon, sources close to the former president say.

During his presidency, Trump often complained about what he called "the deep state."

The heart of the plan is derived from an executive order known as "Schedule F," developed and refined in secret over most of the second half of Trump's term and launched 13 days before the 2020 election.

The reporting for this series draws on extensive interviews over a period of more than three months with more than two dozen people close to the former president, and others who have firsthand knowledge of the work underway to prepare for a potential second term. Most spoke on condition of anonymity to describe sensitive planning and avoid Trump's ire.

[...] They intend to stack thousands of mid-level staff jobs. Well-funded groups are already developing lists of candidates selected often for their animus against the system — in line with Trump's long-running obsession with draining "the swamp." This includes building extensive databases of people vetted as being committed to Trump and his agenda.

The preparations are far more advanced and ambitious than previously reported. What is happening now is an inversion of the slapdash and virtually non-existent infrastructure surrounding Trump ahead of his 2017 presidential transition.

These groups are operating on multiple fronts: shaping policies, identifying top lieutenants, curating an alternative labor force of unprecedented scale, and preparing for legal challenges and defenses that might go before Trump-friendly judges, all the way to a 6-3 Supreme Court.
I'm old enough to remember "GreatAgain.gov" and how thousands of Trump supporters who applied for jobs in his administration got their applications "accidentally deleted" and were never hired.

[...] Tens of thousands of civil servants who serve in roles deemed to have some influence over policy would be reassigned as "Schedule F" employees. Upon reassignment, they would lose their employment protections.

New presidents typically get to replace more than 4,000 so-called "political" appointees to oversee the running of their administrations. But below this rotating layer of political appointees sits a mass of government workers who enjoy strong employment protections — and typically continue their service from one administration to the next, regardless of the president's party affiliation.

An initial estimate by the Trump official who came up with Schedule F found it could apply to as many as 50,000 federal workers — a fraction of a workforce of more than 2 million, but a segment with a profound role in shaping American life.

Trump, in theory, could fire tens of thousands of career government officials with no recourse for appeals. He could replace them with people he believes are more loyal to him and to his "America First" agenda.

Even if Trump did not deploy Schedule F to this extent, the very fact that such power exists could create a significant chilling effect on government employees.
There's not going to be any "chilling effect" if there's no purge.

[...] Following splits from some of his past swathe of loyal advisers, Trump has tightened his circle. The Florida-based strategist Susie Wiles is Trump's top political adviser. She runs his personal office and his political action committee. When he contemplates endorsements, Trump has often attached weight to the views of his former White House political director Brian Jack, pollster Tony Fabrizio, and his son Donald Trump Jr. He often consults another GOP pollster, John McLaughlin. For communications and press inquiries Trump calls on Taylor Budowich and Liz Harrington. Jason Miller remains in the mix.

As Trump's obsessions with 2020 fester, he has also broken with many traditional conservative allies in Congress. Most notably, his relationship with the man who delivered Trump the rock-solid conservative Supreme Court he hankered for — Sen. Mitch McConnell — is broken. McConnell is no longer on speaking terms with the former president.

[...] In those closed-door sessions, Trump confidants, including former senior administration officials, discussed the mistakes they had made in the first term that would need to be corrected if they regained power.

They agreed it was not just the "deep state" career bureaucrats who needed to be replaced. Often, the former Trump officials said, their biggest problems were with the political people that Trump himself had regrettably appointed. Never again should Trump hire people like his former chief of staff John Kelly, his former defense secretaries, James Mattis and Mark Esper, his CIA director Gina Haspel, and virtually the entire leadership of every iteration of Trump's Justice Department.
Haspel has a new gig anyways.


Axios continues:

[...] Throughout the Trump administration, [Supreme Court Justice Clarence Thomas's wife] Ginni Thomas had taken a strong interest in administration personnel. She complained to White House officials, including Trump himself, that Trump's people were obstructing "MAGA" officials from being appointed to key roles in the administration.

As Axios previously reported, Ginni Thomas had assembled detailed lists of disloyal government officials to oust — and trusted pro-Trump people to replace them.

Her recommendations to the White House included appointing the right-wing talk radio provocateur and former Secret Service agent Dan Bongino for a Homeland Security or counterterrorism adviser role. Thomas has recently been a subject of interest to the Jan. 6 Select Committee after the committee obtained text messages she sent to then-chief of staff Mark Meadows urging him to work harder to overturn the 2020 election.

[...] Sources close to the former president said that he will — as a matter of top priority — go after the national security apparatus, "clean house" in the intelligence community and the State Department, target the "woke generals" at the Defense Department, and remove the top layers of the Justice Department and FBI.

[...] Daughter Ivanka and son-in-law Jared Kushner are no longer involved in Trump's political operation. Trump still talks to Minority Leader Kevin McCarthy but their relationship is not what it once was. The former president is no longer in close contact with a variety of former officials and GOP operatives who once had his ear. This group includes former senior adviser Hope Hicks, former Treasury Secretary Steven Mnuchin and former campaign manager Bill Stepien.

[...] Trump has doubled down with a small group he views as loyal and courageous. The group includes his former senior White House officials, Dan Scavino, Stephen Miller and John McEntee. It also includes his fourth chief of staff, Mark Meadows, though their relationship was strained when Meadows recounted in his memoir private details of Trump's hospitalization with COVID-19.

Trump trusts only a few of his former Cabinet secretaries and senior government officials, sources close to him said. He still talks casually to many others, and is seldom off his phone, but former aides who felt they could occasionally persuade Trump to change course say he is quick to shut down advice he does not want to hear.

[...] Between rounds of golf, Trump is seething about the "ungrateful" and "treasonous" former officials from his administration who pop up on television, sometimes promoting a book, other times being praised or co-opted by his enemies.

Trump has complained bitterly about his "wacko" national security adviser John Bolton, his "weak" attorney general Bill Barr, his "RINO" (Republican In Name Only) Defense Secretary Mark Esper, and his "woke" chairman of the Joint Chiefs of Staff, Mark Milley, who, the former president sometimes charges, should be "tried for treason."

[...] Under the courage criteria, he has singled out Jeffrey Clark for particular praise. Trump has also praised [Kash] Patel, who would likely be installed in a senior national security role in a second term, people close to the former president said. If Patel could survive Senate confirmation, there is a good chance Trump would make him CIA or FBI director, these sources said. If not, Patel would likely serve in a senior role in the White House.
It's not all good news, he allegedly still thinks favorably of Richard "Grindr" Grenell.

People close to the former president said Richard Grenell has better odds than most of being nominated as Trump's secretary of state. Grenell was one of Trump's favorite officials at the tail end of his first term. As Trump's acting director of national intelligence, he declassified copious materials related to the Trump-Russia investigation.
I don't know how much of this I believe but this is a far better vision than anything establishment-backed Ron DeSantis is putting out.

[Header image by Gage Skidmore, CC BY-SA 2.0]

Follow InformationLiberation on Twitter, Facebook, Gab, Minds and Telegram.