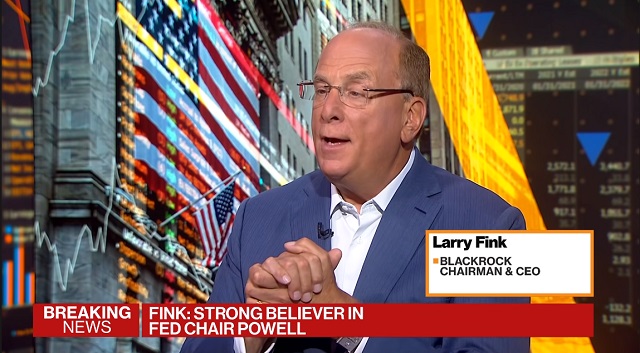 The rise of nationalism and immigration restrictions are to blame for inflation, not the Federal Reserve printing trillions of dollars, according to BlackRock CEO Larry Fink.

Fink, who manages some $10 trillion in assets, told Bloomberg earlier this month that he believes inflation is "not Fed related."


[Embed starts at 5:50]

"I would say, 10 years ago, the rise-- whether you call it nationalism or the rise of this belief that we have to focus on communities that have been devastated by globalization, we need to find ways of creating better jobs for more Americans, that in itself is inflationary," Fink said.

"When you move away from the cheapest price ever to another area and so that's a fundamental change," he continued. "We change your immigration policies and I'm talking about legal immigration okay our legal immigration, that was changed about five years ago where we've reduced the amount of legal immigration."

"If you look at the rate of increase of immigrants, legal immigrants in the United States from 2000 to 2017 and the rate that we are growing immigration in the last five years we're down 2 million, 2 million new entrants to the United States legally. That is very inflationary when we have full employment when we have these jobs think about all the need for workers," Fink said.

BlackRock has been contributing to inflation by driving up home prices though buying up single family homes and turning them into rentals.

Fink has also been at the forefront of the "Woke Capital" movement by using the trillions he manages as a cudgel to force public companies to advance globo-homo policies.

Federal Reserve Chair Jerome H. Powell and Treasury Secretary Steven Mnuchin partnered with Fink during the covid economic meltdown to "rescue" key businesses with political clout.

As markets were falling, "America's top economic officials were in near-constant contact with a Wall Street executive whose firm stood to benefit financially from the rescue," the New York Times reported last year.

From the NYT:

Laurence D. Fink, the chief executive of BlackRock, the world's largest asset manager, was in frequent touch with Mr. Mnuchin and Mr. Powell in the days before and after many of the Fed's emergency rescue programs were announced in late March. Emails obtained by The New York Times through a records request, along with public releases, underscore the extent to which Mr. Fink planned alongside the government for parts of a financial rescue that his firm referred to in one message as "the project" that he and the Fed were "working on together."

While some conversations were previously disclosed, the newly released emails, together with public calendar records, show the extent to which economic policymakers worked with a private company as they were drawing up a response to the financial meltdown and how intertwined BlackRock has become with the federal government.

Mr. Mnuchin held 60 recorded calls over the frantic Saturday and Sunday leading up to the Fed's unveiling on Monday, March 23, of a policy package that included its first-ever program to buy corporate bonds, which were becoming nearly impossible to sell as investors sprinted to convert their holdings to cash. Mr. Mnuchin spoke to Mr. Fink five times that weekend, more than anyone other than the Fed chair, whom he spoke with nine times. Mr. Fink joined Mr. Mnuchin, Mr. Powell and Larry Kudlow, who was the White House National Economic Council director, for a brief call at 7:25 the evening before the Fed's big announcement, based on Mr. Mnuchin's calendars.

The records reveal how often federal officials engaged with a Wall Street executive at a moment of crisis, as they strategized about how to turn around markets that were descending into chaos. Mr. Fink's firm is a huge player across many stock and debt markets, and its advisory arm helped to execute some of the Fed's crisis response during the 2008 financial meltdown. That market insight and experience got him a front-row seat at a pivotal moment, one that may have put him in a position to influence a rescue with huge ramifications for households, businesses and the entire U.S. economy.
It sure must be nice to be the biggest asset manager in the world and have a direct partnership with the Fed.

It's no surprise Fink is defending this corrupt system -- he's in charge of it.

Follow InformationLiberation on Twitter, Facebook, Gab, Minds and Telegram.