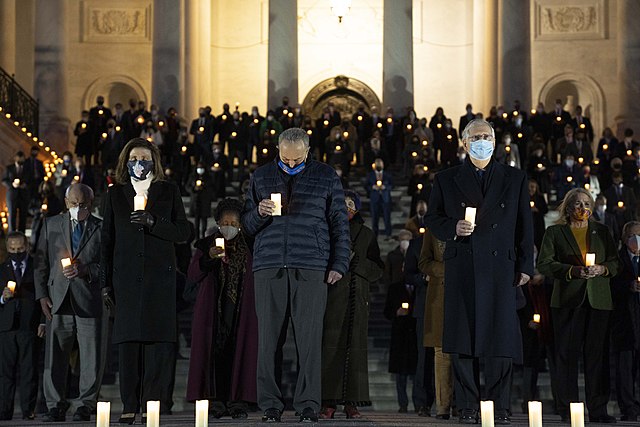 You just can't make this stuff up.

From Roll Call, "Senate OKs $40B Ukraine aid bill for Biden's signature":

A $40.1 billion aid package to help arm the Ukrainian military and provide economic and humanitarian relief is on its way to President Joe Biden's desk roughly three weeks after he asked Congress for another emergency cash infusion.

The Senate voted 86-11 Thursday to clear the supplemental funding bill, with all of the "no" votes coming from Republicans. Biden is expected to sign the measure quickly [...]

"It is beyond troubling to see a growing circle of Senate Republicans proudly oppose Ukrainian funding," Schumer said on the floor Thursday. "It appears more and more MAGA Republicans are on the same soft-on-Putin playbook that we saw used by former President Trump."
From The Philadelphia Inquirer, "Senate votes against the $40 billion Restaurant Revitalization Fund, dashing owners' hopes":

The U.S. Senate on Thursday voted down a bill to replenish the Restaurant Revitalization Fund, a federal grant program that buoyed 101,000 establishments last year, but snubbed more than 177,000 eligible applicants when it ran out of funds in just three weeks. Despite having sponsors on both sides of the aisle, advocates in the Senate failed to secure the requisite 60 votes to pass the legislation. The final vote was 52-43.

"Neighborhood restaurants nationwide have held out hope for this program, selling their homes, cashing out retirement funds, or taking personal loans in an effort to keep their employees working," Erika Polmar, executive director of the Independent Restaurant Coalition, said in a statement. "We estimate more than half of the 177,300 restaurants waiting for an RRF grant will close in the next few months as a result of congressional inaction."

The bill would have provided $40 billion more in relief for dining and drinking establishments, as well as an additional $8 billion in relief funds for various small-business enterprises, including gyms, event venues, and minor-league sports teams.
From Zero Hedge, "Biden Unveils $100 Million More In Weapons To Ukraine Literally Moments After $40BN Approved":

Because apparently the unprecedented and outrageous $40 billion that the Senate just approved for Ukraine aid wasn't enough, the Biden White House has just announced $100 million more in military assistance to the Ukrainian government Thursday afternoon.

As The Hill emphasizes, this came literally "moments after the Senate sent a $40 billion supplemental aid package to the president's desk." More, more, more will now be the order of business, the American taxpayer and debt placed on their children's children be damned.

[...] He detailed what the new $100 million is expected to deliver: "...I am announcing another package of security assistance that will provide additional artillery, radars, and other equipment to Ukraine, which they are already using so effectively on the battlefield."

He described further, "These weapons and equipment will go directly to the front lines of freedom in Ukraine, and reiterate our strong support for the brave people of Ukraine as they defend their country against Russia's ongoing aggression."
Meanwhile, the Zelensky regime is accusing the US of not doing enough for Ukraine.

From Politico, "Biden resists Ukrainian demands for long-range rocket launchers":

Ukrainian officials are growing frustrated with the Biden administration's resistance to providing U.S.-made long-range rocket systems, a weapon Kyiv says is critical to outgunning Russia in the heavy artillery duels raging across the Donbas.

Officials across the Ukrainian government have pleaded with the U.S. for months to send the Multiple Launch Rocket System, or MLRS. But three people familiar with the issue say the Ukrainians are concerned that the White House is holding back over worries the weapon could be used to launch strikes inside Russia, thereby expanding and prolonging the conflict.

"There was momentum on it at Ramstein, but that seems to have cooled," said one congressional staffer with knowledge of discussions last month in Germany, where 40 nations gathered to discuss the next steps in arming Ukraine. "There's definitely a frustration building" in Kyiv over these new caveats being placed on military aid, this person said.
Zelensky is very frustrated with you, America.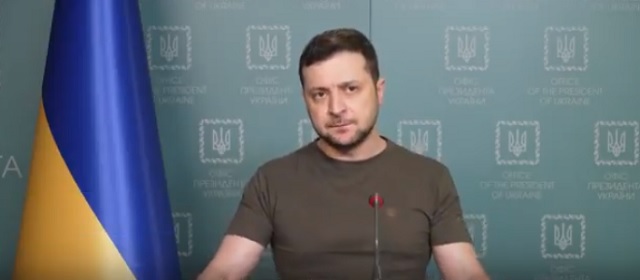 Some $60 billion in three months isn't enough. Zelensky needs you to sacrifice your first born.

[Header image by Senate Democrats, CC BY 2.0]

Follow InformationLiberation on Twitter, Facebook, Gab, Minds and Telegram.