California Rep. Ted Lieu Demands GOP Denounce "Racist And Vile Replacement Theory" He Once Boasted About
Chris Menahan
InformationLiberation
May. 16, 2022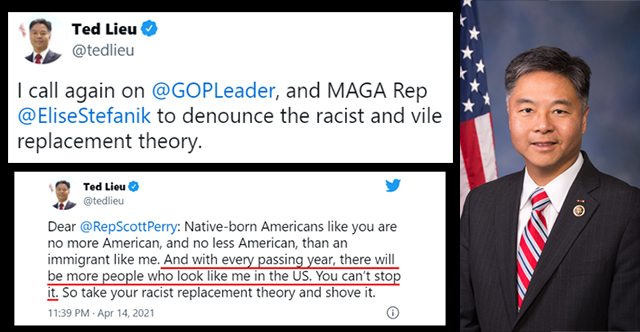 In the wake of the mass shooting in Buffalo, California Rep Ted Lieu (D) has been tweeting nonstop partisan attacks suggesting Republicans are to blame for the shooting for promoting "replacement theory."

By my review, Lieu has sent 16 tweets on the issue over the last three days.

"I looked through [Ted Lieu's] tweets and he is using the Buffalo mass shooting as a partisan attack against Republicans," Andy Ngo said Monday on Twitter. "He has said nothing about the mass shooting on the church in [southern] California (where he lives) by a suspect originally from China who allegedly targeted the Taiwanese."


Lieu himself was born in Taiwan and serves as the whip for the Congressional Asian Pacific American Caucus but he won't issue any tweets on the church shooting lest it get in the way of his precious narrative.

Here's a sample of some of Lieu's tweets demanding the GOP denounce the "vile and false conspiracy theory known as replacement theory."






Last year, Lieu boasted about what some call "replacement" migration in a tweet to Pennsylvania Republican Rep. Scott Perry.

Perry expressed concerns about mass immigration during a House Foreign Affairs Committee meeting in April 2021 by saying: "For many Americans, what seems to be happening or what they believe right now is happening is what appears to them is we're replacing national-born American -- native-born Americans to permanently transform the landscape of this very nation."

Lieu responded to Perry in a tweet boasting: "Native-born Americans like you are no more American, and no less American, than an immigrant like me. And with every passing year, there will be more people who look like me in the US. You can't stop it."

"So take your racist replacement theory and shove it," he added.


Does quoting Lieu's own comments word for word count as promoting replacement theory?

Follow InformationLiberation on Twitter, Facebook, Gab, Minds and Telegram.